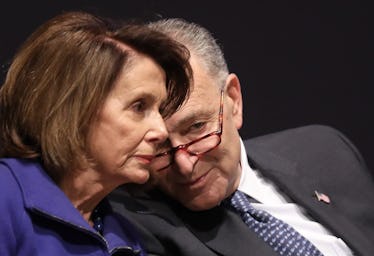 Dems Could Take Back Congress in 2018 & Republicans Are Apparently Freaking Out
Win McNamee/Getty Images News/Getty Images
As the end of the year approaches, it doesn't seem to be a time of celebration for some Republicans on Capitol Hill. Despite a huge win this week in passing their tax legislation, some leaders in the party are apparently looking ahead to whether the Democrats can take back Congress in 2018. As Politico reports, the GOP has expressed concern about their standing in next year's midterm elections.
There were major electoral upsets for the GOP this year, including an Alabama Senate seat and Virginia and New Jersey governorships — which all went surprisingly in favor of Democrats — and they seem to be causing some Republican leaders anxiety.
Per Politico, House Speaker Paul Ryan (R-WI) and Senate Majority Leader Mitch McConnell (R-KY) have expressed concern about the fate of Congress in the 2018 midterms. And President Donald Trump's advisers, the report says, have been warning the president directly about the volatile political landscape and what it could mean for his agenda.
Political adviser for former President George W. Bush Scott Jennings told Politico that "there's at least a 50 percent chance one or both chambers could fall." He added that, "In less than one year, this first term could be, for all intents and purposes, over if the Democrats take control of either chamber."
The numbers suggest Dems have a pretty good shot.
The statistical outlook is pretty positive for Democrats in Congress in 2018, with RealClearPolitics giving them a lead of 13 percentage points over Republicans, averaged over several national polls. While the predictions aren't foolproof, when polling predictions have shown a party leading by at least 9 points, they've usually flipped a chamber of Congress.
"Predictions for the New Year," tweeted the Democratic Coalition chairman Jon Cooper, "The Democrats will take back BOTH the House and the Senate in 2018."
A lot can change over 11 months, but as FiveThirtyEight points out, the polls we see this far out tend to be more accurate than ones down the campaign road.
How many seats are up? A lot.
This year, all 435 House seats will be on the table, and Democrats need to pick up an additional 24 to take the majority. Since 1934, per Ballotpedia, the party of a new president has lost an average of 23 seats in the House following an inauguration. About 50 seats are actually regarded as competitive, based on the number of representatives seated in districts that tend not to align with their party. Vox points out that 23 House Republicans represent districts that voted for Hillary Clinton in 2016. So conditions appear favorable for Dems to win in this chamber.
As for the Senate, Republicans currently have a 51-seat majority, so the heat is on. Of the 100 total seats, 34 are in play next year, a map by CNN shows. Only 10 of these are Republican- or Independent-held, meaning not only would Dems have to defend their current 26 seats on the ballot, but they'd have to pick up at least a couple more to prevent being overriden by a vice presidential tie-breaking vote. It also means that, if they slip up and end up losing seats, they're in danger of giving the GOP the 60-seat majority they need, which would insulate it from filibuster, making it easier to secure victory on big legislation.
Politico reports Republicans also have their eyes on the 2018 special elections for seats vacated by members of Congress who have resigned over accusations of sexual misconduct. These include Representatives Trent Franks (R-AZ) and John Conyers (D-MI) and Senator Al Franken (D-MN). Franken announced on Dec. 21 that he would officially resign as of Jan. 2, to be temporarily replaced by fellow Democrat Lieutenant Governor Tina Smith. On Dec. 7, Franks announced he'd be vacating the office on Jan. 31. Special elections in the first part of the year will determine replacements.
Also of concern for Republican leaders, according to Politico, are the swing-state moderates in their party who may not seek reelection.
It's not just math.
A couple of highly controversial legislative campaigns will probably be of big consequence in the midterms: the failure to repeal the Affordable Care Act (ACA, also called Obamacare), and the passage of the tax bill, which also had bearing on health care. Whether voters are fans of the tax bill and its impact on healthcare or not — and if their feelings change on these decisions over the next year — is a big question.
Trump appears to be effective at raking in the dough for the party, according to Politico, and has so far raised $30 million from donors to the Republican National Committee (RNC). Party leaders are hoping to use his popularity to help buoy support in elections nationwide. But sources also said that there have been behind-the-scenes talks about a lack of funding for the party and concern that the White House isn't ready to hit the campaign trail.
It doesn't help that Trump's approval ratings are at historic lows, and it's unclear if his campaigning can deliver wins for Congress. And after showings in elections this past November, and polls forecasting big victories in 2018, the race is on.