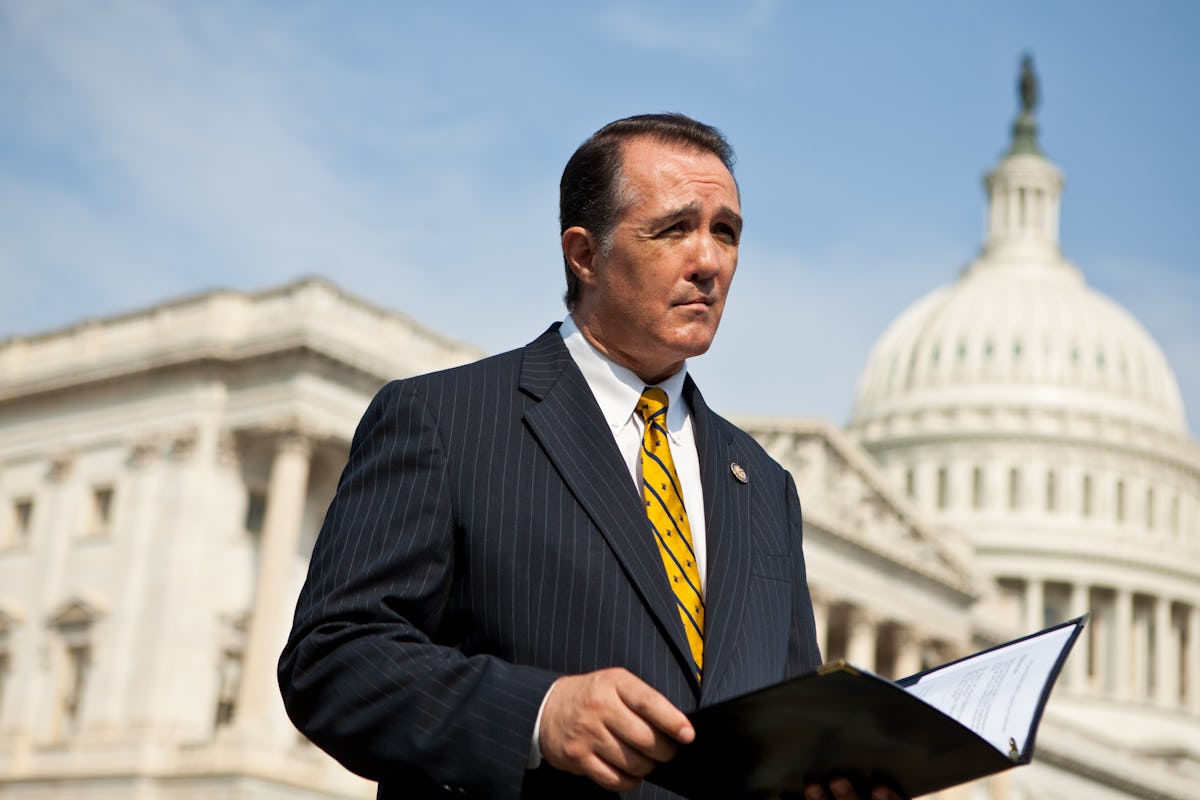 Yet Another Member Of Congress Is Resigning Over Misconduct Allegations
Brendan Hoffman/Getty Images News/Getty Images
Yet another member of Congress is stepping down over allegations of misconduct, and it only took about, oh, seven hours. On Dec. 7, U.S. Representative Trent Franks (R-Ariz.) announced that he was resigning over complaints of misconduct from his staff. Franks is the third member of Congress to announce his resignation this week.
According to a statement shared via Twitter, Franks said that he was resigning over complaints that he had inappropriately discussed surrogacy issues with female staffers. The statement said in part,
I have recently learned that the Ethics Committee is reviewing an inquiry regarding my discussion of surrogacy with two previous female subordinates, making each feel uncomfortable. I deeply regret that my discussion of this option and process in the workplace caused distress.
The statement also discussed in detail Franks and his wife's experiences with infertility and previous use of a surrogate, and stated that Franks had become "insensitive" to how others might view or be affected by what he called the "intensely personal topic" of surrogacy. He also emphatically denied that he had ever engaged or attempted to engage in any sexual contact with his staff. However, he said, the current discussion around harassment and assault had prompted him to step down. He wrote,
But in the midst of this current cultural and media climate, I am deeply convinced I would be unable to complete a fair House Ethics investigation before distorted and sensationalized versions of this story would put me, my family, my staff, and my noble colleagues in the House of Representatives through hyperbolized public excoriation.
He said that his resignation would be effective January 31, 2018.
Franks is a member of the far-right Freedom Caucus and a steadfast social conservative who has taken hard-line approaches on issues including LGBTQ+ rights and reproductive rights, per the Associated Press. Earlier this year he sponsored a House-passed bill which would have made it a crime to perform or attempt to perform an abortion after 20 weeks, and in 2013, said that there was no need for a rape or incest exception to an anti-abortion bill because "the incidence of rape resulting in pregnancy are very low."
On the subject of LGBTQ+ rights, he said in a 2011 interview that "[gay marriage] literally is a threat to the nation's survival," according to The Advocate.
So there were some people who were unsurprised, if grossed out, about the claims that he had allegedly said something inappropriate to his female staffers.
Franks is also the third member of Congress to step down over allegations of misconduct in the last three days alone.
On Dec. 5, Rep. John Conyers (D-Mich.) announced that he was stepping down over multiple accusations of sexual harassment, though he denied wrongdoing, according to The Washington Post. And on Dec. 7, the same day as Franks announced his resignation, Sen. Al Franken (D-Minn.) also announced that he was stepping down due to allegations of sexual harassment, after leading Democrats called for his resignation.
Among Franks' fellow Republicans, there are a few who are doing their best to hold on, despite allegations against them: Rep. Blake Farenthold of Texas is under fire for reportedly using $84,000 of taxpayer money to settle a lawsuit with a former staffer who accused him of sexual harassment. Farenthold denied wrongdoing and said he would pay back the money. And the GOP nominee for U.S. Senate in Alabama, Roy Moore, is accused of sexual misconduct with minors, including a 14-year-old girl, allegations which he denies. So far, the Republican party has more or less stood behind both men, with House Speaker Paul Ryan saying that the Office of Congressional Ethics had found "no substantial reason to believe" the allegations against Farenthold, while President Donald Trump actively endorsed Moore.
Ryan, in a statement about Franks released the same day as his resignation, said that upon learning of the allegations he had referred them to the House Ethics Committee, and suggested that Franks resign.
But well, it looks like Congress is on a roll. If the rate of resignations keeps up, by the 2018 midterm elections we might not have anyone left in office to vote for.