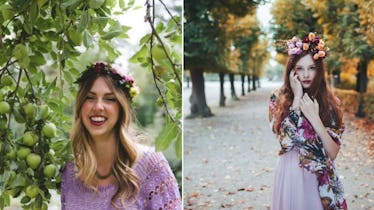 These Millennial Lilac Flower Crowns Will Make Your Wedding So Dreamy
Next to the perfect dress, flowers are the most important thing you need to get for your wedding. Not only do they smell gorgeous, but they will bring a pop of color to your bouquet, your reception decorations, and for some brides, the crown on their head. That's right; more and more brides are opting for flower crowns instead of a classic veil for their big day. It's a boho-chic look that is perfect for your rustic or vintage-style wedding. If this floral look is calling you, consider some millennial lilac flower crowns to make your wedding not only dreamy, but super trendy.
We're no longer talking about millennial pink, and instead, the new color on everyone's mind is lilac. It's a soft purple tone that is fitting for any wedding whether you're a summer bride, or getting hitched in the fall, winter, or spring. Not only is this color super versatile, but the lilac hue will look great with just about any other flower you decide to add to your crown.
If you need some wedding day inspiration, here are seven millennial lilac flower crowns to consider. Of course, it is your day, so make it the crown of your dreams. You deserve to look like a princess on your big daisy.