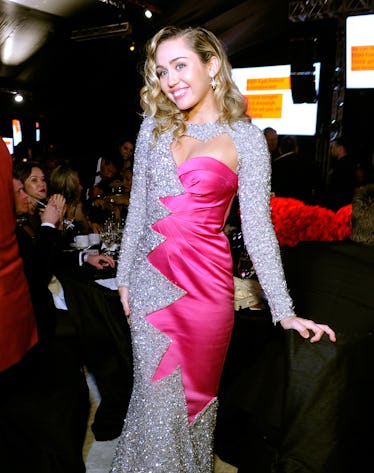 Miley Cyrus Opened Up About Why She Took Back Her Apology Over That 2008 Cover
John Sciulli/Getty Images Entertainment/Getty Images
I gotta hand it to Miley Cyrus. Now that she's all grown up, the former Disney star is not afraid to stand up for herself and speak her mind. It's actually so refreshing to see a star just be herself while giving zero f*cks about the way she's perceived, you know? Case in point: On April 29, Miley Cyrus took back her apology over her controversial 2008 Vanity Fair cover — the one where she posed nude while wrapped up in a white satin blanket that exposed her entire back. And the reason she did it is just so bold and inspirational that I need to bow down ASAP.
What happened was this: 10 years ago, a then 15-year old Cyrus posed for the racy cover image, shot by famed photographer Annie Leibovitz. At the time, Cyrus was best known for playing the wholesome Hannah Montana on the Disney Channel show of the same name, and so there was a huge backlash once the cover was released. Cyrus eventually issued an apology via a prepared statement.
"I took part in a photo shoot that was supposed to be 'artistic,' and now, seeing the photographs and reading the story, I feel so embarrassed," she said at the time. "I never intended for any of this to happen and I apologize to my fans who I care so deeply about."
Fast-forward to April 29, 2018, and Cyrus has now retracted that very same apology, with a pretty bad*ss post on Twitter:
Tell 'em, girl!
As a follow-up, Cyrus appeared on Jimmy Kimmel Live! on May 1 to share the reason behind her new #sorrynotsorry stance on the matter.
"It was 10 years ago, and a lot of things have changed, and I think the conversation has changed a lot," she told Kimmel. "Something I really thought about was, sure, some people thought I did something wrong in their eyes. But I think it was really wrong of someone to put on top of someone that this is my shame, and that I should be ashamed of myself. That's not a nice thing to tell someone that they should be ashamed of themselves."
Not to mention the hypocrisy of doing so, while posting a picture of her on their cover! Not cool. No one should be made to feel bad about their body, and I really love Cyrus for taking such a hard stance here against image shaming and body shaming. She even called out the people who viewed the photo as sinful in the first place. "When this photo was taken, my little sister was here on set," she explained. "She was actually sitting with Annie Leibovitz taking photos, too, and there was nothing sexualized about this on set. It was everyone else's poisonous thoughts and minds that ended up turning this into something it wasn't meant to be. So, actually, I shouldn't be ashamed, they should be."
Cyrus also explained to Kimmel a little bit about what she thinks it means to be a role model today, versus the way she felt 10 years ago when she apologized. "I think at the time, I just wanted it to go away," she said. "And I think I also was trying to balance and understand what being a role model is. To me, I think being a role model has been my free-spiritedness, and sometimes my unapologetic attitude for decisions that I feel comfortable with."
Amen, Miley! You are an unapologetic queen and none of us are worthy. You just keep doing you, girl. And I'll just be right over here loving every minute of it.