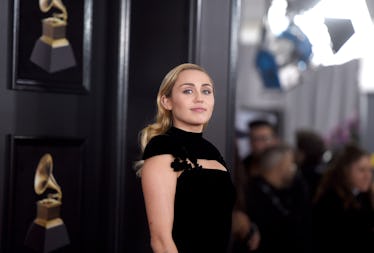 Miley Cyrus Spoke About Her Controversial 2008 'Vanity Fair' Cover & It's So Important
Jamie McCarthy/Getty Images Entertainment/Getty Images
A lot can change in ten years, and Miley Cyrus is proof of that. In 2008, a young Cyrus posed nearly nude for the cover of Vanity Fair, and it caused huge backlash among the public. However, now it's 2018, and Miley Cyrus' tweet about her controversial Vanity Fair cover proves she's grown into a woman who won't accept body shaming any longer.
On April 29, Cyrus took to Twitter to share a 2008 edition of The New York Post, the front page of which showed the Vanity Fair cover along with a headline including Cyrus's apology. In her tweet, Cyrus proudly declares that she's "not sorry" for the controversial photo ten years ago.
In 2008, a 15-year old Miley Cyrus posed for famed photographer Annie Leibovitz to shoot a feature in acclaimed fashion magazine Vanity Fair. On the cover, Cyrus posed nude wrapped up in a white satin blanket with her back exposed. While this wouldn't be a huge deal for other celebrities, Cyrus's role in Disney Channel's Hannah Montana earned her quite a wholesome image. Once the cover was released, Cyrus experienced huge backlash for the cover and eventually apologized for the controversial imagery in a statement.
She said,
I took part in a photo shoot that was supposed to be 'artistic,' and now, seeing the photographs and reading the story, I feel so embarrassed. I never intended for any of this to happen and I apologize to my fans who I care so deeply about.
That might have been 15-year old Miley Cyrus, but 25-year old Miley Cyrus is a different woman now, and I can't stop cheering.
Miley Cyrus shot to fame at the age of 13 on the hit Disney Channel show Hannah Montana and quickly gained a fanbase of young girls, but clearly, shedding her Disney Channel reputation hasn't been an easy journey. There's a lot of pressure growing up in the public spotlight as a child star, and that includes expectations of keeping a wholesome image to remain a "role model" for young girls. However, the public's reaction to Cyrus's magazine cover is proof that body shaming is still a huge problem for women at any age. After the cover was released, some were claiming the cover "exploited" Cyrus and wasn't an appropriate photo for a 15-year old. Despite the backlash, at the time Cyrus said she liked the photo and called it "pretty and really natural." So, if the model likes the photo what's the big deal? Let Miley live, people.
It's so inspiring how much Cyrus has grown over these past ten years. Now, she's clearly evolved into a confident woman that's unapologetic for her body and wants to empower other women to follow suit. Judging from Twitter's reaction, I'd say everyone is rooting for her.
One Twitter user even compared Cyrus's shoot to an actual work of art, and seriously the similarities are uncanny.
Since shedding her Disney Channel image, Cyrus hasn't been afraid to develop her own identity as a young woman. From 2012 to 2013 Cyrus took on a whole new look when she cut off all her hair and dyed it platinum blonde. Plus, her 2013 MTV Video Music Awards performance with Robin Thicke stirred controversy among fans and audiences alike, where she grinded with the "Blurred Lines" singer on stage. That era of Miley Cyrus left the public divided as to whether they wanted to support the singer-songwriter. However, their reactions didn't stop Cyrus from embracing her own journey and living the life she wanted.
Now in 2018, Cyrus has released a number acclaimed music singles, rekindled her romance with fiancé Liam Hemsworth, and has championed for gun control legislation by performing at March For Our Lives. Best of all? She did it all on her own by embracing those bumps in the road.
Miley Cyrus's retracting her apology for the controversial fashion shoot is just one way to help fight image shaming and embrace body positivity. I, for one, hope others will step up and think twice before shaming others for being comfortable in their own skin.
I love you Miley. Never stop speaking up.