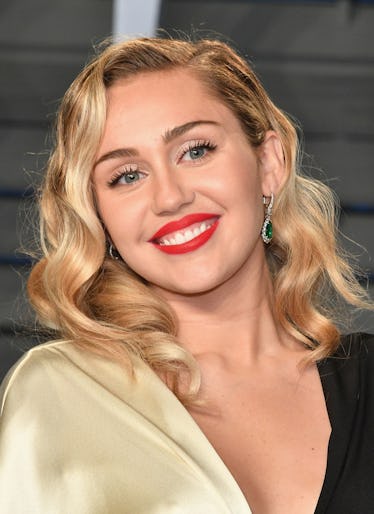 Miley Cyrus Is At March For Our Lives & The Pics Will Get You Pumped
Dia Dipasupil/Getty Images Entertainment/Getty Images
You're probably aware that students, teachers, and protesters alike have been getting ready for March For Our Lives on Saturday, March 24 in Washington D.C. And whether you've experienced gun violence firsthand or if you're just sick and tired of gun-related incidents in the U.S., marching against gun violence is vital to encouraging Congress to amend gun regulations. Several celebrities happen to be very adamant about the cause, and many of them — such as Miley Cyrus — are appearing at marches nationwide. These photos of Miley Cyrus at March For Our Lives are super inspiring, and they show that literally everyone is down to support the cause.
Our girl Miley is performing at Washington D.C.'s March For Our Lives, and I honestly could not be more proud (or less surprised) that she ultimately ended up coming. Prior to Saturday, it had been unclear if she was actually going to perform. Cyrus wasn't listed on the "performers" page of the March For Our Lives website, along with other confirmed singers, like Demi Lovato, Ariana Grande, and Vic Mensa. But it's no shock that she ended up coming, anyway. The former Disney Star had posted supportive and powerful messages about Marjory Stoneman Douglas High School on social media, where she advocated against gun violence leading up to the march. The photos of her participating and performing are super empowering and inspiring. Go Miley, go.
Cyrus shared photos of her and her family on Instagram before the march officially began.
She also posted lyrics to her song, "The Climb, which she had hinted at performing in the tweet below. She ended up singing an incredibly emotional rendition of it, and you better believe it was damn amazing.
Based on Miley's posts leading up to the march, it was relatively clear that she feels invested in the issue of gun violence and changing gun regulations. The "Wrecking Ball" singer is interested in raising awareness and pushing for positive change for several pressing societal issues, including LGBTQ+ awareness and animal rights. I am personally so proud (and hella excited) she ended up making an appearance at March For Our Lives though, as she's an influential voice on a number of societal issues.
This weekend's March For Our Lives in Washington D.C. is expected to host a groundbreaking 500,000 protesters, according to The Washington Post. In addition to gauging support from musical guests, many high profile celebs are supporting the cause as well. For example, George and Amal Clooney donated $500,000, and talkshow host Oprah Winfrey matched their donation. I'm seriously so about all of this universal support, and it's really amazing to see people of all kinds getting this involved.
Companies like Lyft are getting involved with the cause, too, and it's pretty amazing. At the beginning of March, the ride-share company announced that they would be offering free rides for any and all March For Our Lives rallies nationwide, in cities such as New York, Miami, Los Angeles, and New Orleans. Make sure to check out the complete list of cities in their online blog post, and don't forget to RSVP to one of the specified March For Our Lives cities ahead of time. Those who remember to RSVP will receive a special Lyft code to use, and it's only available until they complete $1.5 million worth of rides. (In other words, it's while supplies last.)
I'm beyond happy to see that Miley has come through to support and perform at March For Our Lives in Washington D.C., because she's a highly influential voice for our generation. She's always down to support a good cause, which is incredibly admirable, and the fact that she traveled across the country for the march shows that she truly cares about the importance of gun regulation. In addition to the impressive celebrity lineup, the march stood for an extremely important cause, and it's good to see this amount of support. Hopefully, it'll lead to actual change.
More to come.