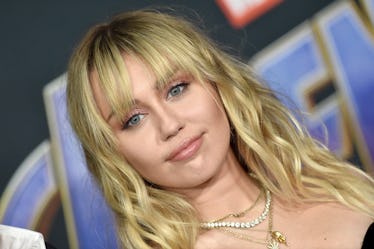 Miley Cyrus' Tattoos Will Inspire You To Get Inked
Axelle/Bauer-Griffin/FilmMagic/Getty Images
Miley Cyrus has been in the spotlight ever since she was a teenager, meaning she has gone through many physical changes in the public eye. Fans marveled every time Cyrus changed up her fashion or hairstyle, like going from brown curls to an ombre bob or a bleach blonde pixie cut to blonde space buns, because her change was always so unexpected. Experimenting with her style is just one way Cyrus expresses herself, but Miley Cyrus' tattoos have a special way of telling her life story.
From honoring her loved ones and paying tribute to her biggest musical milestones to commemorating her most important career moments and personal life events, Cyrus' tats are each significant in their own way. Though in the past, she's only spoken about a handful of specific pieces of art, fans have pieced together a ton of her tattoos' possible meanings based on what was going on in the singer's life at the time. Though fans may only be familiar with her larger tats, Cyrus has a ton of hard-to-spot dainty ones, too. With over 50 tattoos and counting, Cyrus' collection will inspire many fans to get inked themselves.
Check out 20 of Cyrus' most meaningful tats below.