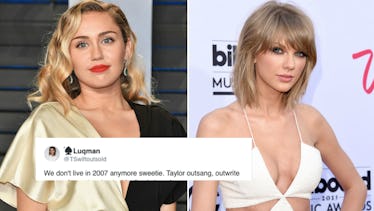 Miley Cyrus May Have Shaded Taylor Swift With This Instagram Meme, So Fans Are Mad
Dia Dipasupil/Jason Merritt/Getty Images Entertainment/Getty Images
Taylor Swift is no stranger to shade. Whether she's dishing it or taking it, the pop star is pretty familiar with it at this point. It seems like it sort of comes with the price of being a successful artist, and Taylor Swift is very successful. While Swift has an arsenal of supporters, she also has a few enemies she's made along the way (looking at you, Kimye), and another well-known celeb might just be added to that list. From the looks of it, Miley Cyrus shaded Taylor Swift, and Swiftie fans are *not* having it.
Look: Taylor Swift is an incredibly talented musician. She's an award-winning singer whose performances are always epic, and her fan base is out of control in, like, the best way possible. But when a recent New York Post article claimed that "everything" Britney Spears has done, Taylor Swift does better, it struck a chord with many fans of the "Ooops!... I Did It Again" singer.
The article compares Swift and Spears in several categories — such as awards show drama, famous celebrity exes, and their slew of albums — and ultimately suggests that, although the pair have a lot in common, Swift's career is "better" than Spears'.
But look, we're not here to discuss who is the better artist (c'mon, you guys, let's just be thankful that both have blessed us with music that's catchy AF). We're here today because of the overwhelming response from fans based on the article's opinion, and the shade that it seems Miley Cyrus might be throwing towards Swift as a reaction to it.
An Instagram video was uploaded in response to the article, showing a compilation of celebs like Lady Gaga, Demi Lovato, and Rihanna seemingly laughing at the New York Post's headline claiming, "Everthing Britney did, Taylor does better":
And, among the people who liked the video was our girl Miley Cyrus:
Yikes. Everyone is entitled to their own opinion, obviously, but when Swift fans saw that Miley Cyrus liked the video that's basically throwing shade at Taylor Swift, they were not happy.
Many took to Twitter to express their thoughts, and things got prettttty salty:
Personally, I can't say that Miley liking this video is necessarily "shade." After all, the original claim that Taylor Swift is better than an icon like pop-legend Britney Spears is pretty controversial, and I would argue they shouldn't be compared at all. With that said, I get why Miley liking this reaction post can be seen as shade by Swifties. The two singers did have a little bit of ~drama~ before when, back in 2015, Cyrus told The New York Times that she didn't want to be a part of Taylor Swift's "squad."
She told the outlet that even though Swift's entourage consisted of "musicians, actresses, models, entrepreneurs," she still wanted no part of that lifestyle. She told the outlet:
I'm not trying to be in the squad. None of my friends are famous and not because of any other reason than I just like real people who are living real lives, because I'm inspired by them.
And then, there was that one time when Taylor Swift's music video for "Look What You Made Me Do" bore striking similarities to Miley Cyrus' music video for her 2010 song, "Can't Be Tamed," which fans of Cyrus called Swift out on:
Sigh.
So what's the big takeaway here? Basically, if you're wildly successful, you're *probably* going to get called out at some point in your career. But remember, Taylor Swift and Miley Cyrus are pretty familiar with it at this point, and I'm sure this new revelation is barely registering on either of their radar.
All for the price of fame, I guess.