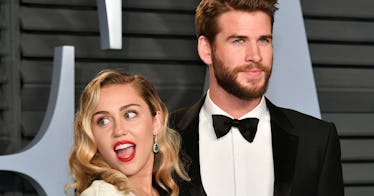 Liam Hemsworth & Miley Cyrus Just Shut Down Those Breakup Rumors With This Epic Video
Dia Dipasupil/Getty Images Entertainment/Getty Images
It's not even lunch time and today has already been a rollercoaster ride of emotions for Miley Cyrus and Liam Hemsworth shippers. On the morning of Thursday, July 18, reports that the couple had called off their wedding over not seeing eye to eye on when to have children started swirling. Those wedding cancellation rumors quickly snowballed into Twitter thinking all hope was lost and the couple had called it quits AGAIN. But it looks like everyone jumped the gun because Miley Cyrus and Liam Hemsworth's response to breakup rumors will convince you they're still together, and actually stronger than ever.
The couple just took to Hemsworth's Instagram story to shut down those pesky breakup rumors with the most adorable video ever. The video is classic Miliam (as I affectionately call them). It shows the couple driving down the street listening to music happily. Cyrus is in the passenger's seat recording when Hemsworth pulls his classic prank of screaming as if they're going to get into an accident. Cyrus obviously freaks out, but as soon as she realizes it was a sick joke, she lifts herself up in her seat and threatens Hemsworth playfully, shouting, "I'm going to beat the shhhhhh..." She stops herself there... for obvious reasons.
Check out the video below and tell me if it looks like something a couple who just called off their wedding would do?
Sure, Cyrus and Hemsworth don't address any wedding cancellation or breakup rumors directly, but this video has, "We're totally still together," written all over it, and feels like a pretty deliberate message to fans that were, just moments ago, in the middle of an existential crisis. I mean, why else would Cyrus go out of her way to film this video on this morning, of all mornings? And then post it to HEMSWORTH'S Instagram as opposed to her own (which she recently purged of all content)? Reeeeeeeal subtle, guys.
Speaking of Cyrus' recent Instagram purge: What once seemed like an act of heartbreak, now seems like an act that screams, "I'm about to drop some new music, y'all!" Amirite?!
I mean, ever since Taylor Swift deleted all her Instagram posts to build buzz leading up to the Reputation era, celebrities clearing out their Instagrams seems to have become the go-to method to signal something big is coming. Unfortunately, the world thought the "something big" was a Miley/Liam breakup. And I'm so, so glad they were wrong! And now I'm getting hype over the new music that might be coming our way from Cyrus.
Yes, I'm going to hold you to this, Miley. Some new music is the least you can do after the emotional rollercoaster I went through this morning. That, or a hug like this from Liam Hemsworth:
I'll happily accept either.
Anyway, I think it's safe to say that Miliam is still a happy couple and, hopefully, their wedding is still going on as planned. All is right in the world and we can all breath again.