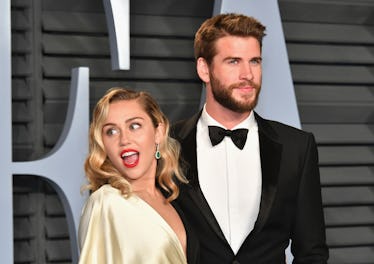 Here's Why Unmarried Miley & Liam Reportedly Call Each Other Husband & Wife
Dia Dipasupil/Getty Images Entertainment/Getty Images
Now, I can't speak for my future self. That being said, I have a pretty strong feeling I won't be calling my boyfriend my husband until we are married and he is, in fact, my husband. But hey! That's just me. Some people don't need a ceremony to start using those labels. For example, Miley Cyrus and Liam Hemsworth reportedly call each other husband and wife despite the fact that they aren't actually married.
Weird flex, I know. But it's actually not that weird of a move when you hear their reason why. "They are not married but often laugh at the idea that people believe they are secretly wed," a source told Entertainment Tonight. "They refer to each other as husband and wife all [the] time and their friends laugh."
While joking around with my bae about how all of our fans are constantly making up rumors about us getting secretly married isn't necessarily a situation I personally relate to, I must say their reasoning makes sense.
The cute jokes are just proof of how happy the two lovebirds really are together. "Miley and Liam are totally in love, and are so happy living together," the same source told Entertainment Tonight.
And don't worry guys. The fact that they aren't married yet doesn't mean that we're never going to hear wedding bells for the on-again-off-again couple. "They do talk about a wedding and kids all the time, but they are in no rush," the source adds to Entertainment Tonight.
For those of you who may have forgotten, Entertainment Tonight reminds us that Cyrus and Hemsworth did almost make their way down the aisle back in 2012. They broke off their relationship and reunited in 2016.
Since then, the couple has dodged wedding rumors. This month has been a significant one for them: Their home was destroyed during the California wildfires in mid-November. On Nov. 23, Cyrus turned 26. In honor of her birthday, Hemsworth posted an adorable picture of Cyrus holding a dog. He paired the picture with this adorably loving caption:
Happy birthday to my sweet girl. You're more precious than ever. So thankful to have you in my life. ❤️
So, to sum up: They might call each other "husband" and "wife," but it's just for laughs. They aren't legally married yet, though they could one day choose to tie the knot. They've experienced life together and apart, decided they're better together, and after everything they've been through, Hemsworth still thinks Cyrus is "more precious than ever."
Now, of course, whether or not they are married does not make their love any more or less legitimate. They could call each other "husband" and "wife" with no real documentation to back it up, or they could go to City Hall and take care of business right now. Either way, it's safe to say this couple is totally in love. They've been through it all together and they still seem to be happier than ever. If you ask me, that is something worth celebrating. Congrats to the happy couple!