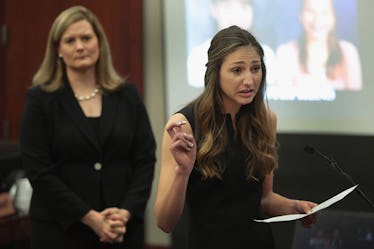 Michigan State Will Pay Survivors Of Larry Nassar's Abuse In A Massive Settlement
Scott Olson/Getty Images News/Getty Images
On Wednesday, May 16, it was announced that Michigan State will pay survivors of Larry Nassar's abuse in what is possibly the largest settlement in a sexual misconduct case involving a university, according to ESPN. In total, the university will pay $500 million to 332 women and girls who said they were assaulted, with some of that money reserved for more victims, should they come forward. This agreement followed a mediation meeting on Tuesday between attorneys for the victims and representatives of Michigan State University (MSU).
UPDATE: "USA Gymnastics is very encouraged by the settlement in principle recently made by Michigan State University and the attorneys for the Larry Nassar survivors," USA Gymnastics said in a statement obtained by Elite Daily. We remain committed to continuing our mediation efforts to reach resolution as well."
The organization went on to say that the Athlete Assistance Fund, which was created by the National Gymnastics Foundation, provides funding for current or former members of USAG who were sexually abused in the sport, and that the organization is "dedicated to creating a culture of empowerment" for gymnasts.
"We are focused on doing everything we can to prevent this from happening again by making bold decisions and holding ourselves to the highest standards. We look to these incredibly brave survivors to help in making USA Gymnastics stronger, safer and more empowered," the statement concludes.
EARLIER: Nassar worked with athletes at Michigan State as an athletic doctor, which he did in addition to his work with USA Gymnastics (USAG), until he came under investigation for allegedly sexually abusing young women and girls. , In February, Nassar was charged on federal child pornography and 10 charges of criminal sexual conduct. Between those charges, he has been sentenced to 140 to 310 years in jail in total and will almost certainly spend the rest of his life behind bars.
"Michigan State is pleased that we have been able to agree in principle on a settlement that is fair to the survivors of Nassar's crimes," Robert Young, a lawyer for MSU, said, according to The New York Times. MSU Board of Trustees chair Brian Breslin said in a statement,
We are truly sorry to all the survivors and their families for what they have been through, and we admire the courage it has taken to tell their stories. We recognize the need for change on our campus and in our community around sexual assault awareness and prevention. A successful resolution to the litigation is a positive step in moving us all forward. We will continue working as a Board to address the necessary changes and improvements that are needed at our university.
Elite Daily has also reached out to the USOC and USAG for comment on this settlement, but did not hear back at time of publication.
With over 300 victims and upwards of two decades' worth of sexual abuse, this is the biggest known sexual abuse case in American sports and college history. Michigan State has come under intense criticism, especially from the victims themselves, for their role in allowing the abuse to continue. According to The Detroit News, 14 different Michigan State representatives had been alerted to Nassar's abuse following accounts from victims since 1997. This included the university's president, Lou Anna Simon, who confirmed to the paper that she was told in 2014 after a Title IX complaint (which is used when sexual misconduct is alleged on college campuses) and police report had been filed. Simon resigned in January, and the 2014 Title IX investigation ultimately cleared Nassar at the school, allowing Nassar, who is an MSU alum, to remain there until he faced outside investigation and charges.
In August 2016, Rachael Denhollander, a former gymnast, reported that Nassar had abused her 16 years earlier to the MSU Police Department, which is what kicked off the full investigation that led to his imprisonment, per the Lansing State Journal. Denhollander's call to the MSU police was not the first time police were alerted to Nassar's criminal behavior. In 2004, then-17-year-old Brianne Randall-Gay told police in Meridian, Township, Michigan that he had sexually abused her, and the police ultimately decided not to refer the case to prosecutors after Nassar said what he had done was legitimate medical work. Meridian Township police apologized to Randall-Gay for dismissing her allegations in February of this year.
"I'm very happy that we're done with litigation," Denhollander said following the announcement of the settlement, according to ESPN. "I'm very grateful for the historic number that acknowledges some of the hardships that these women have suffered. I'm also very disappointed in a missed opportunity to create meaningful policy changes."
There were many opportunities for authority figures to step in and stop Nassar from abusing young women and girls over the course of his work, and that no one did until 2016 is a massive failure by several different institutions, which is what led to the more than 250 women and girls testifying in court this winter during Nassar's sentencing trials. The victims who testified included MSU athletes, Olympic gymnasts like Aly Raisman, Jordyn Wieber, and Jamie Dantzscher, and Kyle Stephens, the daughter of family friends of Nassar whose report of abuse to police also led to his eventual sentencing.
"'Moving forward', for myself and many others, means continuing to advocate, call for accountability, and stand for those who have yet to have a voice. This includes continuing to advocate for desperately needed accountability and change at USAG and in the USOC," Denhollander said in a statement on Wednesday. "I remain disappointed that resolution was not reached with these other organizations who also enabled a serial predator for decades."