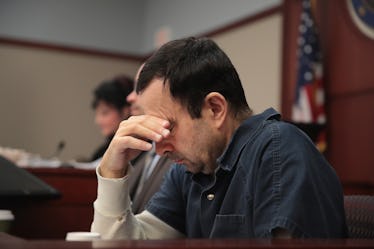 Michigan Police Apologized To A Larry Nassar Accuser 13 Years After She Reported Him
Scott Olson/Getty Images News/Getty Images
Over a decade after Brianne Randall-Gay brought a complaint to authorities in Meridian Township, Michigan, police apologized to the Larry Nassar accuser for not properly investigating the allegation of sexual assault against the now-disgraced doctor. The accusation was originally brought to Meridian Township police in September 2004, when 17-year-old Randall-Gay told authorities that Nassar had used his bare hands to massage her breasts and crotch area, a police report about the complaint shows. The police eventually decided against referring the case to prosecutors after Nassar told them that his actions were part of legitimate medical procedure, the report says.
Meridian Township police released the 13-year-old report on Wednesday, Jan. 31, days after Nassar was sentenced to between 40 and 175 years in jail during a separate hearing at the Ingham County Circuit Court in Lansing, Michigan after pleading guilty to several charges of criminal sexual conduct.
"On behalf of the community, our police department, to you, Brianne, we failed you," Meridian Township manager Frank Walsh said a press conference on Thursday, Feb. 1. "We let you down."
Randall-Gay had joined the over hour-long press conference via a Skype video call. Both Walsh and Meridian Township police chief Dave Hall offered numerous apologies.
"We know we can be better," Walsh said at another point during the press conference. "We will be better and we are sorry that we were manipulated back in 2004." According to the Lansing State Journal, Walsh became the township manager in 2013, long after Randall-Gay made her complaint to police.
According to the police report detailing Randall-Gay's complaint, the then-high school student had gone to see Nassar after feeling back pain. During a second visit with Nassar, for which she was alone with him, Nassar allegedly assaulted the teenager.
"He told her this would relieve the tension in her back and buttocks. He was pressing hard on her vagina and it hurt Randall," the police report says. At another point, the report details that "[Nassar] was 'rubbing around' and 'squeezing' her breasts. He told her this would also relieve the tension in her back and buttocks. He continued to do this for 10 to 15 minutes."
During the press conference on Thursday, Randall-Gay accepted the apology from Meridian Township, but expressed that she thought her accusation wasn't taken seriously.
"I felt like my complaint was ignored," Randall-Gay said. "I felt like I was ignored."
Larry Nassar's Legal History
Nassar was also investigated for sexual assault in 2014, by Michigan State University, under Title IX rules. Unlike Randall Gay's complaint in 2004, the Michigan State investigation was referred to prosecutors, though they ultimately decided not to press charges.
Three years later, however, Nassar pleaded guilty to 10 separate charges of sexual assault, admitting to committing the crime against multiple young girls, including three under the age of 15, in the course of his work as a doctor.
Seven of those charges were under the jurisdiction of Ingham County, where Nassar received a sentence on Jan. 24 that landed him between 40 and 175 years in prison. Before that sentencing, he had already been sentenced to 60 years in prison this past fall due to a guilty plea in a separate case, related to possession of child pornography. Nassar had been tried for child pornography after authorities found over 35,000 images on a disposed hard drive belonging to Nassar. Some of the images depicted children as young as 6 years old, an FBI agent testified in court, per The Washington Post.
On Friday, Feb. 2, Nassar was at the hearing for the remaining three charges of sexual assault he pleaded guilty to, which were under the jurisdiction of Eaton County. During that hearing, the father of three daughters who say they were abused by Nassar attempted to lunge at the former physician.
Nassar has yet to receive the final sentence for the crimes he admitted to in Eaton County. The crimes that he has been prosecuted for, however, are not related to Brianne Randall-Gay's complaint to Meridian Township police. Now, the town's leaders have apologized to her for not properly investigating Nassar 13 years ago. He has since been accused of sexual assault by over 260 women.