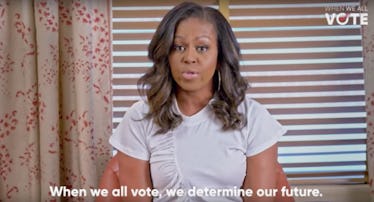 Michelle Obama Made A Video About Voting That'll Actually Get You Pumped Up
I'm really not trying to to call anyone out, but a relatively large percentage of the American population only registers to vote every four years... and it's a major problem. These infrequent voters neglect to participate in all of the other (equally important) elections, when voting is the key to making change. Whether it's an election for your state senator, mayor, or even for your school board, voting on pretty much anything can make a difference. If you need any further motivation, though, take a look at Michelle Obama's When We All Vote video — it'll get you so pumped to vote in the next election.
Former first lady Michelle Obama has been a prominent leader in the American community since 2008, when President Barack Obama was first elected. Since then, she constantly persuaded the American people — and especially young people — to get more involved in various ways, whether she's recruiting kids to get outside and stay active, pumping teenagers up about going to college, or encouraging the American people to cast their vote.
If you aren't entirely convinced that voting — whenever possible — is 100 percent necessary, make sure to check out her When We All Vote video below. You'll basically leap out of your seat to get yourself registered to vote in the next election (that is, if you haven't done so already).
When We All Vote is a nonpartisan not-for-profit dedicated to increasing voters, and the new When We All Vote video, which was released on Thursday, July 19, begins with Michelle discussing the importance of voting. She says that people should always make sure they're voting whenever possible. While voting for a president is undeniably super important, she says that the only way to have your voice heard is to vote whenever you can.
In the video, she said, "If we really want our voices to be heard, we need to vote in every election. Not just for president, but for every office — school boards, state house, senate, all of them."
The former first lady went on to say that now is the time to get more politically active in U.S. communities, to make things actually change. (As part of the nonpartisan group's efforts, Obama's participation in this video is also nonpartisan.)
She said, "It's time our nation requires it our democracy in the country we love requires our attention, voice and participation."
After giving a little background on the cause, the former first lady reaches out to Hamilton playwright Lin-Manuel Miranda. She tells him it's important that everyone votes in each election, and that he should recruit others to do the same. As Miranda says, everyone should vote "because it's real easy [to do] from your phone or tablet... and because Michelle said so."
In the video, Miranda ends up calling basketball player Chris Paul, who passes along the information to Janelle Monáe. Monáe, in turn, discusses the importance of getting our nation's youth involved, and eager to register. She notes, "Its going to be the young people of this generation that will change the world."
The video then cuts to clips of Tom Hanks, Faith Hill, and Tim McGraw, who discuss the importance of convincing others to go to the polls. It's super empowering video, if you haven't already seen it.
Voting is extremely important, and former first lady Michelle Obama definitely thinks so. If you aren't already registered, make sure to do so, and if you are, tell your friends and family. On some level, I'm positive it'll end up making a difference.