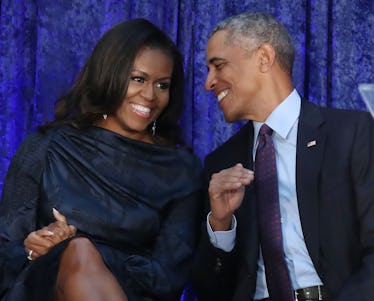 Michelle Obama Talked About Her Wedding Day On IG & I Can't Handle The Cuteness
Mark Wilson/Getty Images News/Getty Images
I'm convinced that fairy tales are real, you guys, and the Obamas prove it. On May 23, the former first lady shared an emotional throwback photo of herself and President Barack Obama on their wedding day, and it's seriously one of the best #CouplesGoals-worthy posts I've ever seen. If you thought you couldn't adore them any more than you already do, just wait until you check out Michelle Obama's Instagram about Barack Obama on their wedding day.
In the photo, the couple is shown smiling at each other during their wedding reception back in October 1992 while Barack seemingly attempts to remove his wife's garter belt. Although they were all smiles, Obama wrote that the day had actually gotten off to a bad start. Michelle wrote,
You can't tell it from this photo, but Barack woke up on our wedding day in October, 1992 with a nasty head cold. Somehow, by the time I met him at the altar, it had miraculously disappeared and we ended up dancing almost all night. Twenty five years later, we're still having fun, while also doing the hard work to build our partnership and support each other as individuals. I can't imagine going on this wild ride with anybody else.
My heart! Could Barack and Michelle be any cuter than this?
The two are definitely "still having fun," as Barack just announced that he and Obama inked a multiyear deal to produce TV shows and movies for Netflix.
"One of the simple joys of our time in public service was getting to meet so many fascinating people from all walks of life, and to help them share their experiences with a wider audience," Obama said in a statement, as reported by The New York Times and Variety. "That's why Michelle and I are so excited to partner with Netflix — we hope to cultivate and curate the talented, inspiring, creative voices who are able to promote greater empathy and understanding between peoples, and help them share their stories with the entire world."
The news honestly couldn't have been more exciting, especially because Barack and Michelle Obama have remained pretty quiet since leaving the White House in January 2017. Lately, they've been working a bit more behind the scenes, but they (thankfully) keep all of us admirers in the loop of their lives by sharing posts about each other on social media.
For example, the two totally showed out for each other on Valentine's Day this year. On Feb. 14, Barack shared an adorable picture of him and Michelle with their arms around each other on Twitter along with the caption, "Happy Valentine's Day, @MichelleObama. You make every day and every place better." And Michelle, on the other hand, created a romantic Spotify playlist full of love ballads in honor of her beau. She shared the playlist on Twitter along with the caption, "Happy #ValentinesDay to my one and only, @BarackObama. To celebrate the occasion, I'm dedicating a little Valentine's Day playlist to you!"
The playlist was titled "Forever Mine" and featured love songs like John Legend's "All of Me," "Until The End Of Time" by Justin Timberlake and Beyoncé, Cyndi Lauper's "Time After Time," and "Get You" by Daniel Caesar and Kali Uchis. (And to be completely honest, I've lost track of how many times I've listened to it. It's really that great.)
I truly love the love that Barack and Michelle Obama share, and they really steal my heart with posts like these. And with holidays and birthdays around the corner, I can't wait to see what they post about each other next.