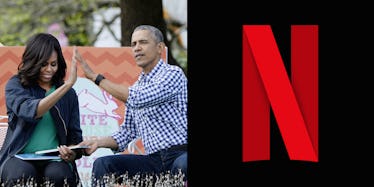 The Obamas Just Finalized A Huge Deal With Netflix & You'll Have SO Much To Watch
Netflix / Pool/Getty Images News/Getty Images
Netflix made a huge announcement on Monday, May 21, when the streaming service revealed that it had inked a deal with former President Barack Obama and former first lady, Michelle Obama. So, what are the Obamas doing with Netflix? They have a multiyear agreement to produce TV shows and movies for the platform, and I'm stoked.
"One of the simple joys of our time in public service was getting to meet so many fascinating people from all walks of life, and to help them share their experiences with a wider audience," Obama said in a statement, as reported by The New York Times and Variety. "That's why Michelle and I are so excited to partner with Netflix — we hope to cultivate and curate the talented, inspiring, creative voices who are able to promote greater empathy and understanding between peoples, and help them share their stories with the entire world."
Can you IMAGINE what kind of wonderful stuff these two have cooked up? Clear your plans for weekends to come — you're going to need to binge whatever they start making ASAP.
"Barack and I have always believed in the power of storytelling to inspire us, to make us think differently about the world around us, and to help us open our minds and hearts to others," said Michelle Obama in a statement to Variety. "Netflix's unparalleled service is a natural fit for the kinds of stories we want to share, and we look forward to starting this exciting new partnership."
Netflix is making money moves, y'all. Variety reported that financial details of the deal have not been released, and it's not known how much the Obamas will be paid. The former first couple also recently inked a book deal with Penguin Random House, according to published reports, outlining each of their respective memoirs.
The Obamas are set to produce "a diverse mix of content," according to Netflix, which includes the potential for scripted series, unscripted series, docu-series, documentaries, and features. Their projects will reportedly be available to the 125 million-subscribers Netflix boasts in 190 countries.
"Barack and Michelle Obama are among the world's most respected and highly-recognized public figures and are uniquely positioned to discover and highlight stories of people who make a difference in their communities and strive to change the world for the better," said Netflix Chief Content Officer Ted Sarandos. "We are incredibly proud they have chosen to make Netflix the home for their formidable storytelling abilities."
The New York Times first reported that the Obamas were in talks with Netflix in March, and that although the financial details were not disclosed, it's likely the deal is worth "many tens of millions of dollars." It's one of several high-profile moves the streaming service has made in recent months, to lock down huge names in entertainment — though, this Obama deal is the biggest announcement so far. Last year, Shonda Rhimes, who created Grey's Anatomy, inked a deal with Netflix that reportedly was worth more than $100 million, per Variety. Ryan Murphy, who created Glee, also jumped at a chance to join Netflix's cohort earlier this month. Money moves, indeed.
As the Times reported, the Obamas have largely remained out of the public eye. Barack appeared as the first guest on on David Letterman's new Netflix series My Next Guest Needs No Introduction, which premiered in January.
Among President Obama's most visible public appearances since leaving office this year was President Obama appeared as the first guest in the former "Late Show" host's new long-form interview program. On May 5, Michelle Obama spoke at the United State of Women summit in Los Angeles, California, where she delivered a strong rebuke of "men who fail up." Other than that, they've kept it low-key — occasionally taking to social media when a cause they care deeply about is in the news. For example, Obama weighed in on President Donald Trump's decision to withdraw from the Iran nuclear deal, by calling the decision "misguided."
I, for one, cannot wait to see what they come up with. With the power of Netflix's platform, and the unfettered creativity of the Obamas, it's going to be weeks and weeks of binge-watching for this guy, and I'm more than OK with that.