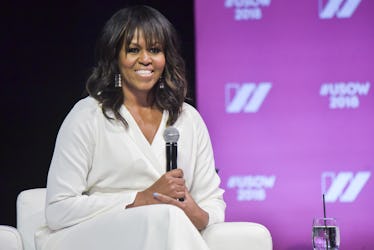 Michelle Obama Called Out Men Who Get To "Fail Up" & It's Just So Real
Rodin Eckenroth/Getty Images Entertainment/Getty Images
Michelle Obama has once again proved she's an absolute queen. The former FLOTUS has always championed for women's rights and gender equality, but Michelle Obama's comments about men "failing up" just took things to a whole new level. I hope these truth bombs never stop coming.
On May 5, Michelle Obama spoke at the United State of Women summit in Los Angeles, California. She was joined by Black-ish actress Tracee Ellis Ross, and the two women discussed the inequality between men and women in the workforce, notably that men have the opportunity to "fail up," succeeding professionally despite failure, while women do not.
"I wish that girls could fail as bad as men do, and be OK," Obama said, "because let me tell you, watching men fail up — it is frustrating. It's frustrating to see a lot of men blow it and win. And we hold ourselves to these crazy, crazy standards."
It's probably telling that Obama also took the opportunity at the show to discuss the 2016 presidential election — and specifically, her disappointment at how many women voted for Donald Trump despite Clinton being, as she described, "the most qualified." Mm-hmm. "In light of this last election, I'm worried about us as women and how we think about ourselves," she said. "What is going on in our heads that we let that happen? ... When the most qualified person running was a woman, and look what we did instead." Although the former first lady didn't mention the president by name, she didn't really have to.
See the moments starting at about the 21:30 mark below.
Even though this kind of double standard may be a sad reality at the moment, the fight to make changes happen are well underway, and Obama is just one of many women speaking out against gender inequality. On March 8, 2017 the A Day Without a Woman protest opened the public's eyes about the importance of women in the workplace. That day, women from across the country decided to strike in order to showcase the important role women have within their career fields. In addition, women were urged to not shop that day and to wear red in solidarity for the protest. Even though The Washington Post did point out the protest could possibly be "elitist," since not every woman can afford to skip work for a day, the mission behind the movement is admirable.
Plus, the Women's Marches have become monumental events for ladies across the globe. On January 21, 2017, the day after Donald Trump's inauguration, millions of women across the United States marched in cities around the country to demand equal rights. Last year's march was truly a historic event, and the 2018 event didn't disappoint either. On their website, the Women's March outlines their mission as unifying communities and creating relationships.
"This march is the first step towards unifying our communities, grounded in new relationships, to create change from the grassroots level up," the march's official mission statement says.
The magnitude of the marches — the 2017 marches had an estimated 4 million attendees nationwide, per The Washington Post — was a surprise to everyone, but it proves that the resistance and fight for gender equality is strong.
Donald Trump's presidency has women looking for a women to represent their futures. Sadly, it doesn't seem that we should expect Michelle Obama 2020 bumper stickers coming our way. During the summit, an audience member yelled out to Obama to run for president, but the former FLOTUS quickly shut the idea down. She said,
When I hear people say, 'You run,' it's part of the problem. We still didn't get 'Yes we can' right. It's not yes you can, it's yes we can. And until we get that right, it doesn't matter who runs. And look, I don't think I'm any different from Hillary.
Even though Clinton didn't win the election, there's still chance that a female president could be on the horizon. With role models such as Obama and Clinton, young women everywhere will be able to understand that the idea of a female president is possible.
Continue to fight ladies.