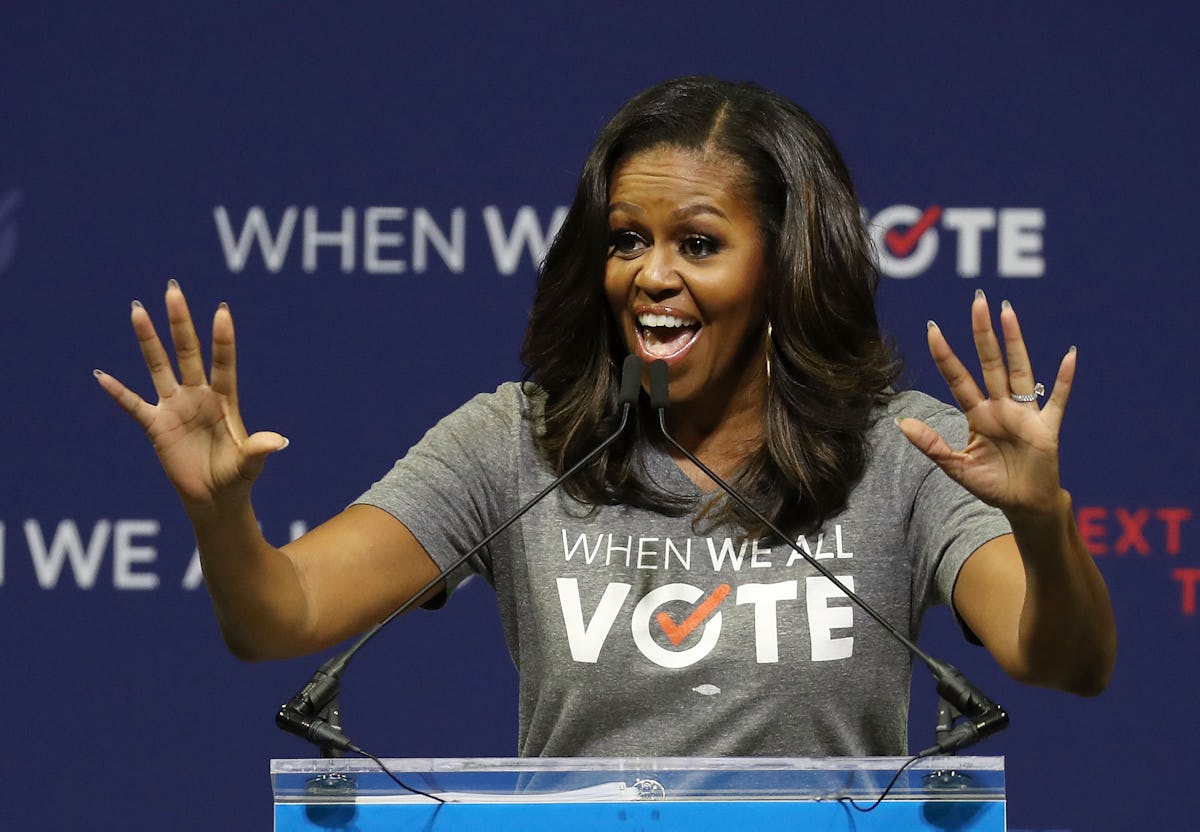 Michelle Obama Is Getting Serious About The Lack Of Change After Me Too
Joe Raedle/Getty Images News/Getty Images
The Obamas are no longer in the White House, but Michelle Obama is still in full first lady mode trying to make the world a better place for women. Michelle Obama's comments about #MeToo and the lack of change is getting real. During an Oct. 11 appearance on the Today show, Obama made it clear that there's a lot more work still to be done when it comes to gender equality.
On Oct. 11, the International Day of the Girl, the former first lady announced her Global Girls Alliance, a program of the Obama Foundation that works to empower young girls across the globe through education. While talking about it on the Today show, Obama was asked her thoughts on the #MeToo movement, and she didn't hold back. Obama said she's surprised at "how much has not changed," adding "enough is enough." She said,
I'm surprised at how much has changed, but how much has not changed and I think that's where the fire is coming from. Enough is enough. The world is sadly a dangerous place for women and girls and we see that again and again, and I think young women are tired of it. They're tired of being undervalued. They're tired of being disregarded. They're tired of their voices not being invested in and heard and it's not just around the world — that's happening right here in this country and if we're going to change that, we have to give them the tools and the skills through education to be able to lift those voices up.
Obama's #MeToo remarks come just a day after the current first lady also shared her thoughts on the movement. During an Oct. 10 interview with ABC's Tom Llamas, Melania Trump said she supports women, and feels "they need to be heard," but there needs to be "really hard evidence." Trump said,
I support the women. They need to be heard. We need to support them. And also men, not just women. We need to have really hard evidence that if you're accused of something, show the evidence. You cannot just say to somebody you know 'I was sexually assaulted' or 'You did that to me,' because sometimes the media goes too far. And the way they portray some stories, it's not correct. It's not right.
In a statement given to Elite Daily, Trump's spokesperson Stephanie Grisham said the first lady "supports women," but that she also believes in "innocent until proven guilty." Grisham said,
As she said in the interview, Mrs. Trump supports women and men equally and believes victims of any kind of abuse, violence, or assault should step forward and be heard. She also believes 'innocent until proven guilty' is an important tenet of our country's justice system. There are two potential sides: victims should feel safe enough to come forward, but people who are falsely accused can have their lives changed forever and deserve due process.
Both comments came on the heels of Brett Kavanaugh's confirmation to the Supreme Court on Oct. 6, despite accusations of sexual assault leveled against him, which he has denied. In a letter shared with Congress which went public on Sept. 14, Christine Blasey Ford accused Kavanaugh of attempting to sexually assault her at a party while the two were in high school. Kavanaugh repeatedly denied Ford's claim, calling it "completely false." Representatives for Kavanaugh did not respond to Elite Daily's request for further comment. Following Ford's claim, two other women came forward to accuse Kavanaugh of sexual misconduct. Deborah Ramirez accused Kavanaugh of exposing himself to her in college, and Julie Swetnick accused him of allegedly drugging young women for the purposes of sexually assaulting them. Kavanaugh also denies those claims, and said in a statement following Swetnick's allegation,"This is ridiculous and from the Twilight Zone. I don't know who this is and this never happened." Representatives for Kavanaugh did not respond to Elite Daily's request for comment on either claim. But, after both a procedural vote and a up-or-down vote, Kavanaugh was sworn in as a Supreme Court justice.
Given the events of the weekend, it's not surprising that both Trump and Obama would be asked to comments on the state of women in this country and #MeToo. Their statements might be different, but at least they both agree that survivors need to be supported.