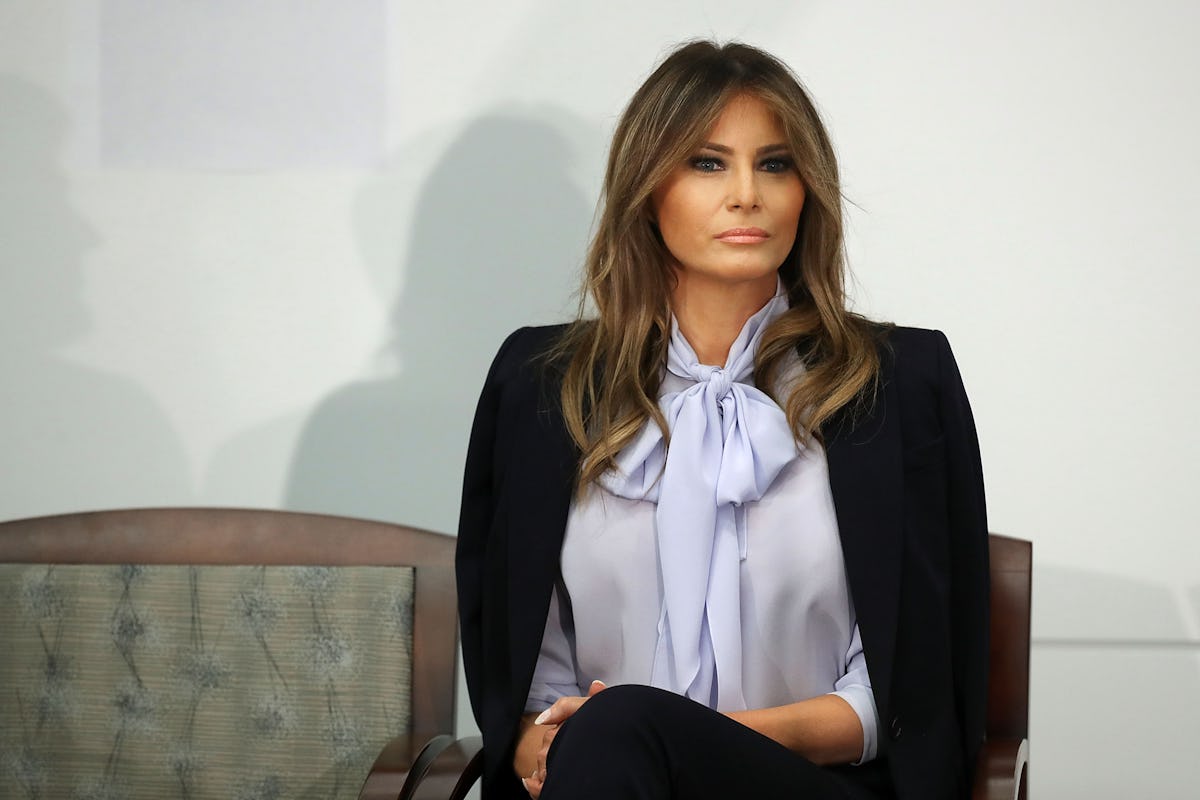 Melania Trump's Comments On The Me Too Movement Really Miss The Point
Chip Somodevilla/Getty Images News/Getty Images
These past few weeks have truly started a revolution. Whether it's demonstrating on Capitol Hill or providing resources to those in need, the topic of gender equality and sexual assault is on everyone's minds. Well, it looks like even the usually quiet first lady has something to say, but Melania Trump's comments on Me Too aren't like other conversations.
On Wednesday, Oct. 10, first lady Melania Trump spoke to ABC News' Tom Llamas about today's political climate. During the interview, Llamas asked Trump about her thoughts on today's Me Too movement, and what she thinks needs to be done to address sexual harassment. In response, Trump said that she "supports women" but believes there needs to be "hard evidence" when coming forward with these allegations. She said,
I support the women. They need to be heard. We need to support them. And also men, not just women. We need to have really hard evidence that if you're accused of something, show the evidence. You cannot just say to somebody you know 'I was sexually assaulted' or 'You did that to me,' because sometimes the media goes too far. And the way they portray some stories, it's not correct. It's not right.
In a statement provided to Elite Daily by email, Trump's spokesperson Stephanie Grisham stated Trump "supports women" but does believe in the importance of "innocent until proven guilty." Grisham said,
As she said in the interview, Mrs. Trump supports women and men equally and believes victims of any kind of abuse, violence, or assault should step forward and be heard. She also believes 'innocent until proven guilty' is an important tenet of our country's justice system. There are two potential sides: victims should feel safe enough to come forward, but people who are falsely accused can have their lives changed forever and deserve due process.
Trump might support both victims and accused, but the two sides aren't exactly equal. According to the Rape, Abuse & Incest National Network (RAINN), less than one third of sexual assaults are reported, and out of 1,000 sexual assaults, only six perpetrators will go to prison. The advocacy group also reports that there are a number of reasons survivors don't report, including fear of retaliation, fear of nothing being done, and fear of the allegation "not being important enough" to report. Furthermore, many survivors don't report their case immediately after it happens, which means "hard evidence" such as fingerprints, bodily fluids, etc. are gone. And even when survivors do report quickly, it may not matter due to the huge problem of rape kits being backlogged for testing, which means that any evidence collected may not make it to authorities.
Additionally, the National Sexual Violence Resource Center (NSVRC) has found that false sexual violence allegations are low, representing only 2 to 10 percent of all reported cases. Despite the numbers, conversations surrounding false allegations have certainly risen over the past few weeks.
The Trumps may support "innocent until proven guilty," but clearly, it's not that simple. For those who are looking to learn more about how to help sexual assault survivors, there are plenty of ways for you to do your part.