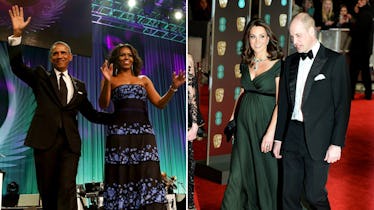 The Obamas' Message For The Royal Baby Is, Of Course, Just Perfectly Adorable
Pool/Getty Images News/Getty Images/Jeff Spicer/Getty Images Entertainment/Getty Images
There's a new royal baby! Prince William and Kate Middleton welcomed their third child on Monday, April 23, and Michelle and Barack Obama's response to Princess Kate giving birth is just about the most adorable thing ever. Their message, which was sent from Michelle Obama's Twitter account, spoke to the friendly relationship the Obamas maintain with the British royal family.
The Duke and Duchess of Cambridge gave birth to a baby boy on Monday. That's the third child for the royal couple. Of course the Obama's had to send their congratulations, so Michelle sent out a tweet of a throwback photo from the Obama's trip to Kensington Palace in 2016. The snap that pretty much went viral for its cuteness showed Prince George — Prince William and Kate's eldest child — meeting Barack Obama. It was past the little prince's bedtime and so he shook the president's hand while rocking some pajamas.
So Michelle took the opportunity of the newborn's birth to start planning another pajama party. In the sweetest tweet ever, she congratulated the duke and duchess on their newest member of the family and then set plans for another pajama party into motion — only this time, with the former first lady also wearing her robe. Michelle wrote in her tweet,
Barack and I are thrilled to congratulate The Duke and Duchess of Cambridge on their newest arrival! We hope to meet him soon for a Kensington Palace pajama party. I'll wear my robe!
It was Kensington Palace who first announced the news of another royal baby in a morning tweet on April 23. "Her Royal Highness The Duchess of Cambridge was safely delivered of a son at 1101hrs," the tweet read. "The baby weighs 8lbs 7oz. The Duke of Cambridge was present for the birth. Her Royal Highness and her child are both doing well."
Just a few hours after giving birth, Prince William and Middleton emerged on the steps of the Lindo Wing at St. Mary's Hospital in Paddington, west London, with their newest bundle of joy. They must be putting something in the water of that private Lindo Wing because Middleton came out, after just giving birth, looking absolutely flawless in a bright red dress with lace collar. I mean, come on. Kate, we need all of your secrets right now please. Thank you.
Seriously folks, it's unreal. Just look:
I am kind of distracted by how the duchess mastered "I woke up like this: pregnancy edition," but you probably also want to take a look at the little bundle of joy. Here he is:
Aww.
Here's one of mommy and baby (can you say mommy if you are dealing with royalty?):
Right now we'll all just have to keep referring to the newest member of the royal family as "one lucky kid" or "royal baby," because name has yet to be announced. But, not to worry, because the royal family doesn't plan to keep everyone in the dark much longer in regards to "one lucky kid's" name.
As the couple waved hello to onlookers from in front of the Lindo Wing steps, the prince told the press, "We're very happy. We're delighted. Thank you." He also teased that the big reveal of the baby's name will come soon, "You'll find out soon enough. We didn't keep you waiting too long," he said, according to People.
So keep refreshing your social media feeds, folks, because I am sure that Kensington Palace will tweet the baby's name soon. Prince George and Princess Charlotte are both named after members of the family. So while you're waiting for the news, maybe go through the family line and pick out some names you really like. Who knows, you might guess right.