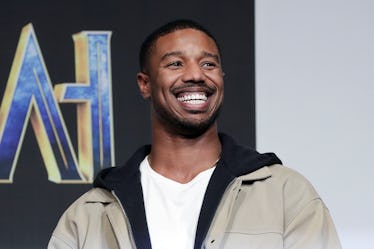 Michael B. Jordan Confessed To Sliding Into Fans' DMs, & SOS Can I Be Next?
Han Myung-Gu/Getty Images Entertainment/Getty Images
Michael B. Jordan is a national treasure, that much is obvious. The talented, sexy, funny actor has made a name for himself on screens both big and small, but it's his heart of gold and flirty vibe that has everyone falling in love. The 31-year-old has been on a press tour for his new movie, Creed II, and while making an appearance on The Ellen DeGeneres Show, he opened up about a lot of things. One of the high points? When Michael B. Jordan confessed to sliding into fans' DMs. Like, actually sliding into direct messages on social media for ~sexual~ purposes. I'm fine! Everything's fine!
The stud himself admitted to DeGeneres and her co-host, Chrissy Teigen, that he has in fact reached out to fans on social media, and it's the exact kind of hope we all deserve this holiday season. How did this all go down, though? Did Jordan just straight-up tell the audience to check their Twitter inboxes in case he had come calling? Not exactly.
"Have you ever hooked up via direct messages?" Teigen asked him point blank, proving herself to be another national treasure this country needs. Instead of shying away from the question, Jordan got real. "Yes, I have," he said, according to People. "I have, I have, I have, I have. I'm human, I'm human. Not often, but yes, I have."
That's right, y'all, get pumped! It seems like one of the most eligible bachelors out there is on the prowl, and it might be time to take your Instagram off private if you're interested. I mean, just the fact that MBJ checks his DMs is exciting. Imagine the thirst messages!
However, Jordan isn't exactly ready for anything too serious — something he also told Teigen and DeGeneres. "My assistant is actually going to try to DM you right after this," Teigen told Jordan after he admitted to hooking up via DMs. "She's ready for kids, everything." Not trying to steer her wrong, Jordan then admitted, "Imma take my time and ease on into that." Which is perfectly fine! He's young, hot, and has the whole world in front of him. There's no need for him to rush into something he's not ready for.
But, DeGeneres was very adamant about the fact that Jordan really shouldn't be single, especially if he's looking — something Jordan explained had more to do with his work schedule than anything else. "I've been working," he said."I've been working crazy. So I've not really had the time to properly date."
So who knows? Perhaps the Black Panther star is just waiting until he finds the right special someone to take him off the market, and TBH, it could be anyone! After all, we already have one MBJ-DM success story. Back in May, college student Sylvia Wilson casually slid into Jordan's DMs and offered to buy him a smoothie when he was on her college campus filming. Soon after, they were smiling for a picture together, BuzzFeed reports.
Clearly, Jordan is open to meeting people who aren't fellow celebrities, and that's pretty awesome. For all we know, his next date could be reading this article, so shoot your shot girlfriend. His DMs are open!