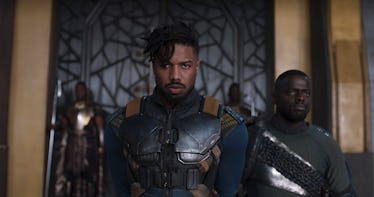 Michael B. Jordan Wrote A Killmonger Diary For 'Black Panther' & Yes, I'm Sweating
Disney/Marvel Studios
Can we just all take a minute to appreciate Michael B. Jordan in Black Panther? Not many people can turn a superhero villain into an empathetic character, but Jordan managed to do it with flying colors (he also let us stare at his abs for two hours, but that's a different story). In order to get fully into character as Erik Killmonger, T'Challa's murder-loving cousin, Michael B. Joran wrote a Killmonger diary for Black Panther. That's right: The actor assumed Killmonger's voice and wrote long diary entries about himself to better understand the character's backstory and motivation. So, are these diary entries public record, or...?
Jordan is currently promoting Fahrenheit 451, an HBO movie based on the famous novel, and he stopped by The Late Show with Stephen Colbert to discuss the project. Of course, things quickly turned to the ultra-successful Black Panther, and Colbert asked Jordan how he felt about playing a villain. "As a kid, most people want to play the hero of the story. Very few people want to play the villain of the story," said Colbert before asking about Jordan's seemingly unconventional choice. Honestly, I thought Jordan was going to give a boring answer along the lines of, "It was a great opportunity to expand my range," but then he started talking about keeping diaries, and my head practically flew off my body.
According to Jordan, writing diary entries about his characters is a key part of his process:
For me, what we usually do with our characters is we write a backstory. I write journals. So I have journals, or diaries, or whatever, for every character that I have, from the earliest memory up until the first page of the script. And for me, it just kind of gives you context.
I'm a huge fan of The Wire, so I would die to read Jordan's diaries about Wallace. Or, can you imagine what Vince Howard's journal looks like pre-Friday Night Lights? What about Creed's Adonis Johnson? Jordan just blew up my entire world with a single small comment.
So, what exactly is in Killmonger's diary? It's not too surprising to learn that Jordan imagined a pretty bleak backstory for the Black Panther villain. He told Colbert:
His was particularly dark, and it was a very sad journal. Not having his mom growing up, in and out of the system, foster care, foster homes and whatnot. It's a lot of dark stuff that's probably not right for television. But it was deep, and it allowed me to kind of go to that place right before a scene. It allowed me to lock in.
Fans saw some of Killmonger's childhood in Black Panther, but it seems like Jordan did a great job imagining the things we didn't see on screen. These early life experiences (which are, unfortunately, all pretty devastating) inform who Killmonger is as a character and ultimately motivate him to take control of Wakanda from T'Challa. I'm not sure if journaling is a popular habit among actors trying to get into character, but maybe more actors should try out Jordan's technique. If diary entries are going to get us a few more convincing, empathetic villains, I'm so down.
Now that he's become a near-iconic villain in Black Panther, Jordan gets to go back to playing the good guy. In Fahrenheit 451, he plays Guy Montag, a fireman who rebels against his censorship-driven dystopian society. Montag puts his life on the line when he joins a resistance group that directly targets his boss (in the future, firemen burn books rather than put out fires), and from the trailer, it looks like Jordan's character is every bit as intense as Killmonger. The biggest difference (besides the good guy-bad guy stuff) between Montag and Killmonger? Montag seems to be wearing a shirt in most of the scenes. Sigh.
If Jordan ever writes a book, fingers crossed that it will include at least a little bit of Killmonger's diary. Or maybe he could save us all a little money and share a few pages on Instagram.