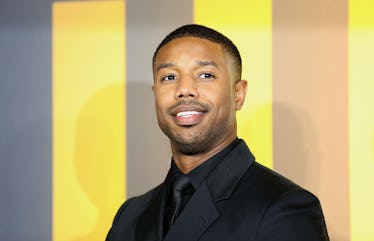 Michael B. Jordan's Instagram About Inclusion Riders Has Me Cheering So Hard
Tim P. Whitby/Getty Images Entertainment/Getty Images
The term "inclusion rider" has been on everyone's lips since the Academy Awards aired on March 4. With gender equality movements #MeToo and Time's Up, clearly celebrities want to see changes made within their industry. Well, Michael B. Jordan said he'll use an inclusion rider from here on out through his career, and it's everything.
Jordan took to Instagram on March 6 to announce the decision to use a form of the rider, which is a clause in an actor's contract in which an actor or actress demands representation of diversity among cast and crew members on a film set in order to do a film. In the post, he shared a photo of him with actress Alana Mayo and another companion along with a powerful caption explaining why he made this decision.
He wrote,
In support of the women & men who are leading this fight, I will be adopting the Inclusion Rider for all projects produced by my company Outlier Society. I've been privileged to work with powerful woman & persons of color throughout my career & it's Outlier's mission to continue to create for talented individuals going forward. If you want to learn more about how to support the cause – link in bio. #OutlierSociety#AnnenbergInclusionInitiative
In his Instagram bio, Jordan includes a link to University of Southern California (USC)'s Annenberg Inclusion Initiative. According to its website, this initiative is dedicated to finding research-based solutions to tackling inequality in career fields through three different methods, including research, advocacy, and action.
The inspiration behind Jordan's decision must have been spurred by Frances McDormand's inspiring speech during the 90th Academy Awards after winning the Oscar for Best Lead Actress for her role in Three Billboards Outside Ebbing, Missouri on March 4. In her speech, she not only made every female Academy Award nominee stand in solidarity, but she also brought to a light an extremely important, but rarely discussed, topic within the film industry.
She said,
Look around, because we all have stories to tell and projects that need financing. Invite us into your office in a couple of days, and we'll tell you all about them. I have two words to leave with you tonight. Inclusion. Rider.
Mic. Drop.
For those looking for an airtight definition of inclusion rider, the Annenberg Inclusion Initiative has its own definition.
It reads,
The concept is that A-list actors can incorporate a clause in their contracts that stipulates that inclusion — both on camera and behind the scenes for crew members — be reflected in films. The rider states that women, people of color, people with disabilities, and members of LGBT and marginalized communities who are traditionally underrepresented be depicted on screen in proportion to their representation in the population.
So for those behind this idea and looking to learn more about the concept, Annenberg Inclusion Initiative founder Stacey L. Smith has the answers. During her 2016 TED Talk, Smith discussed the importance of portraying a realistic world in cinema, specifically by showcasing diversity in a number of different roles whether that be leading or minor.
"An inclusion rider implemented by an A-lister in their contract can stipulate that those roles reflect the world in which we actually live," Smith said.
A resounding "duh" sounds off the walls. I personally can't believe it's taken so long for this concept to hit the Hollywood industry, but I guess better late than never right?
Leave it to Michael B. Jordan to be one of the inspiring stars to spearhead this necessary change. Since his appearance as villian Erik Killmonger in the triumphant Black Panther film, it's obvious that off-screen Jordan is a true hero to us all.
Conversations surrounding movements for gender equality like Time's Up and #MeToo are still going strong, but words can only do so much. Cheers to seeing change actually being made, and here's to more celebrities standing up for what's right.
Ugh, I love you Michael B. Jordan.