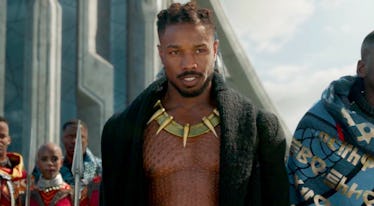 Fans Have One Big Question After Seeing 'Black Panther' & We're Worried
Marvel
Black Panther just introduced movie fans to a ton of new characters to be obsessed with. There's Danai Gurira's next-level badass Okoye, Lupita Nyong'o's super spy Nakia, and of course Letitia Wright's wisecracking tech genius Shuri (Tony Stark who?). But the movie's real scene-stealer was Erik Killmonger, the formidable antagonist played with fiery resolve by Ryan Coogler's ace-in-the-hole star Michael B. Jordan. Unfortunately, Killmonger's fate doesn't look so good at the end of Black Panther, leading fans to wonder: will Michael B. Jordan be in more Marvel movies or is he officially out of the Marvel Cinematic Universe after Black Panther? Let's break it down.
SPOILER ALERT: This post will discuss the ending of Black Panther, so don't read on if you haven't seen the movie yet and want it to remain unspoiled. When Ryan Coogler was announced as the director of Black Panther, movie fans knew that it was only a matter of time before the director's frequent collaborator Michael B. Jordan was cast in the film as well. Jordan had already been the lead of Coogler's two movies before then — 2013's Fruitvale Station and 2015's Creed — and sure enough, the pair continued their partnership in Black Panther, with Jordan jumping into the Marvel Cinematic Universe as the black ops-trained assassin Erik "Killmonger" Stevens.
Killmonger becomes the main antagonist of Black Panther after we learn that he is really Wakandan-born and named N'Jadaka, the son of T'Challa's uncle N'Jobu. When Killmonger learned the truth about his father's death — that T'Challa's father T'Chaka killed him during his time as the Black Panther — he vows revenge on T'Challa and returns to Wakanda to challenge the prince for the throne following T'Chaka's death. After defeating his cousin in ritual combat, Killmonger becomes the new king of Wakanda and gains the powers of the Black Panther. Now in power, Killmonger plans to break Wakanda's long tradition of keeping its Vibranium tech hidden from the rest of the world, ordering his people to begin sending their Vibranium weapons out to the oppressed people around the globe.
But Killmonger's reign is brought to an end by T'Challa, who actually did not die during his fight with Killmonger and was instead saved and cared for by the Jabari Tribe. Having regained his Black Panther abilities, T'Challa returns to defeat Killmonger by stabbing him in the chest with a spear. As Killmonger is slowly dying, T'Challa says that they can still save him, but Killmonger responds that he'd rather die than be jailed and removes the spear, which quickly kills him.
So, that seems to answer the question, doesn't it? We saw Killmonger die, so no more Michael B. Jordan, right? Well... things aren't that simple in the Marvel universe. In the comic books, Killmonger is actually brought back to life after T'Challa kills him — a supervillain named the Mandarin uses his magic rings to resurrect Killmonger. Although we watched Killmonger die at the end of Black Panther, this means that there is precedent in Marvel canon for the Wakandan warrior to be brought back to life, and the possibility for Michael B. Jordan to reprise his role in future Marvel movies.
Now, the question is whether or not the Marvel movies will decide to explore that story of Killmonger's resurrection or not. A Black Panther sequel has not been announced, but it feels like only a matter of time before that happens. After his resurrection, Killmonger actually becomes more heavily involved in Iron Man's story, but Marvel has also not announced plans for another Iron Man standalone, so its unclear when Killmonger could come back, if he ever does. But still... it's possible! Killmonger isn't necessarily gone forever, Marvel fans.