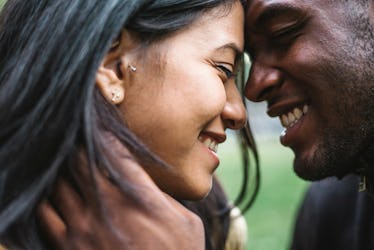 One Gender Tends To Say 'I Love You' First & The Reason Why Is Pretty Surprising
If I had to guess which partner would say, "I love you," first in most heterosexual relationships, I would probably go with the woman. This has absolutely never been the case in any of my own relationships so I have no idea what I'm using as my guide here. Maybe romantic comedies? Anyway, I would be wrong.
Turns out, men are more likely to feel and say those three magic words first. According to a study of 172 college students that appeared in The Journal of Social Psychology, men were more likely than women to drop the L-bomb first. And it turns out that those same students expected the opposite result — that women would say it first.
So not only do men tend to fall in love and express those feelings faster than women do, we're also conditioned to think that women feel and express love sooner in relationships. Personally, I won't say, "I love you," unless it's in response to my partner's admission. It's unfair, I know, but it comes from a fear of rejection. I used to think this was my personal defense mechanism, but thanks to researchers Marissa A. Harrison and Jennifer C. Shortall, I know I'm not alone.
I could have gleaned this from Gossip Girl if I'd been more willing to admit that Blair Waldorf isn't all that different from the average woman. Sure, she has more headbands than I do and oh, yeah, a private limo to drive her around New York City, but for a while, she refused to tell Chuck Bass how she really felt about him unless he 'fessed up first. For her, it was all about power dynamics. She felt that expressing vulnerability would somehow mean losing the upper hand in the relationship.
Eventually, Blair caved and said those three words, eight letters before Chuck could — but most women don't. They're not only thinking about who has the upper hand. Their decision to hold back is more about coming to terms with their own romantic feelings toward their partners rather than their personal insecurities. Here's what else this study revealed about how men and women say, "I love you."