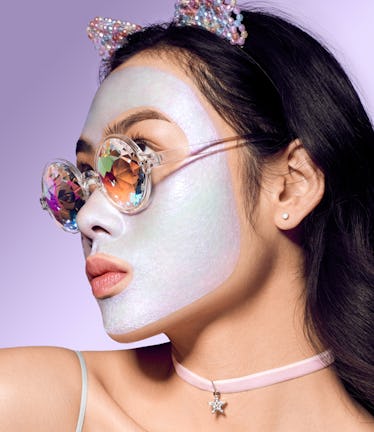 This Wildly Popular K-Beauty Brand Is Coming To Sephora, So Prepare To Get Sheetfaced
Memebox
As K-Beauty skincare continues to dominate the market, especially with its adorable and innovative packaging, I can't help but get excited every time I hear more products are becoming accessible in the United States. The latest Korean skincare news is a doozy: Memebox at Sephora is happening, and if you haven't heard of the brand, I suggest you start saving now. You're going to want to buy everything.
I'm a skincare junkie, and without a doubt, I will try any product that promises glowy and smooth skin, so it's no surprise that I've fallen in love with K-Beauty. The products are fun to use, and I'd even argue that Asian companies are leading the pack when it comes to skincare. That's why when I was going through my daily peruse of Techcrunch, I was beyond excited to see that Korean beauty startup Memebox just signed a deal with Sephora and is relaunching its U.S. e-commerce platform.
Initially, Memebox was strictly a K-Beauty retailer, but a little over a year ago it announced that it was overhauling the brand. It needed time to revamp its ethos and figure out where it saw the brand's trajectory. Last year, Memebox's founder Dina Ha stated that Memebox wanted to become a one-stop shop for individuals who wanted to learn about K-beauty products.
"What we learned is that what we need is the education and the content piece to let the users know what K-beauty means. [We are] solving a bigger problem by narrowing down the bigger category of K-beauty. Ultimately, Memebox is setting out for it be more useful to search for a product on Memebox than it is to search on Google."
A little over a year later, Memebox is coming back full force. The company will now sell its in-house brands I Dew Care and Nooni on the e-commerce site, and next month it is going to add a makeup line — Pony Effect. The brand also will be launching a new cosmetic line at Sephora in the fall.
Memebox continues to operate in Asia markets such as South Korea, China, Taiwan, and Hong Kong, but Ha noticed that there was an increase in purchases from the United States. So she wanted to permanently bring products right to American doorsteps, and provide a way to educate Americans on the right way to approach K-Beauty.
If you're already a fan of K-Beauty, then you know there are so many products and tools one can use. If you're anything like me, it can get a bit overwhelming, so that's where Memebox comes in. Not only is it going to provide an easier shopping platform to Americans, but it's going to double down on product education as well.
The difference between this e-commerce site and other favorite sites like Soko Glam and the trendy Glow Recipe site is that Memebox is going to sell its products in a more data-driven way. In the past, products were just marketed to everyone, but now that consumers are becoming aware of treating specific skincare needs, Memebox is stepping in to provide that customization. It will collect data from its site to forecast trends and shorten development cycles for in-house products and partners.
This development is something I think the beauty community will adopt as the future of consumerism. Memebox harnesses site data, which in turn inspired the launch of Memebox's wildly successful clay and peel-off masks. Although sheet masks seem to be a cornerstone of the beauty world right now, data shows consumers are shifting towards other mask formulas. I say, give me a sheet mask or a clay mask — just give me a mask.
According to Ha, the site will also reintroduce its search by ingredient feature. In addition, customers will have education filters so they can learn about the science behind the products. Can you say hello to the future?
For now, you can head over to the revamped Memebox website to check out updates. If you can't wait until the fall to check out the launch at Sephora, the Memebox site is chock full of products. Time to get sheetfaced.