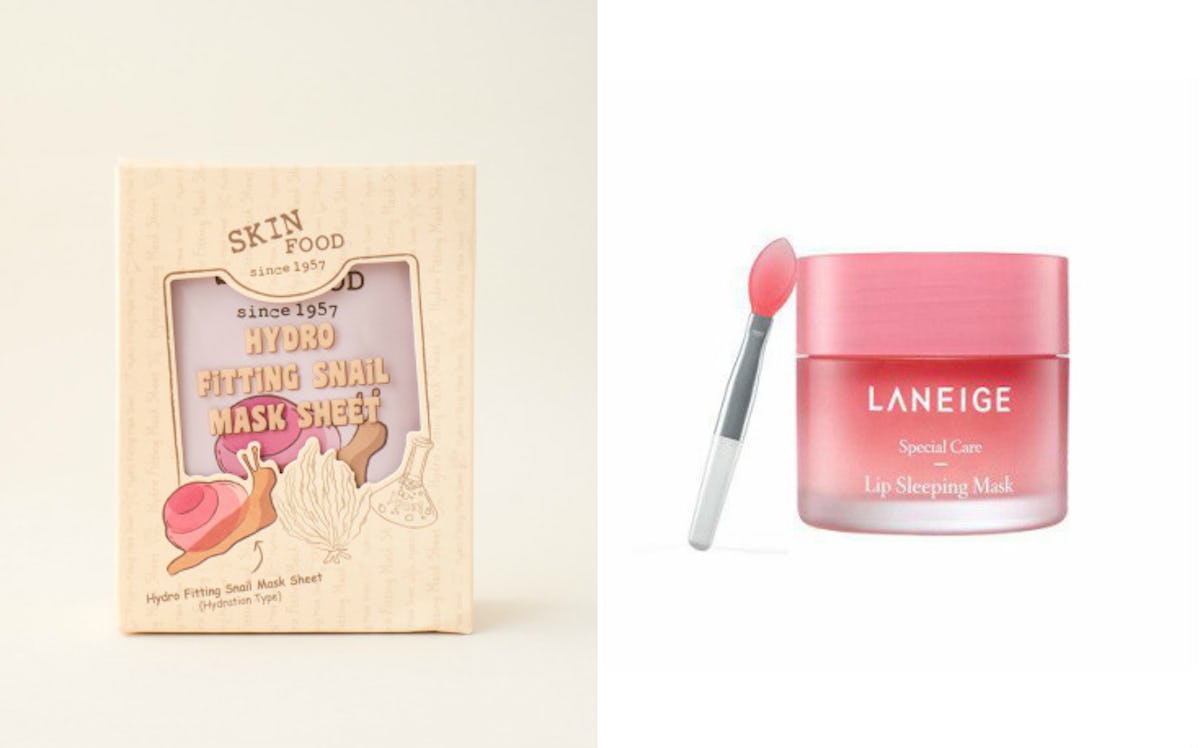 8 K-Beauty Products To Obsess Over If You Can't Get Enough PyeongChang
Skin Food/Laneige
I've been rooting for Team USA to sweep the most medals during the 2018 Olympics, but when it comes to skincare, Korea is definitely leading the beauty industry. While the athletes compete in their last events, here's eight K-Beauty products to purchase even when the Olympics come to a close. Who says the athletes get to have all of the fun? Although us normal humans aren't dueling it out to place for a medal, I think everyone deserves a bit of K-beauty gold.
There's not one thing I could compete for during the Olympics, especially since I'm super klutzy. If compiling K-Beauty products, or fashion and beauty was a sport, I'd probably place gold. At the very least, silver. When it comes to K-Beauty, the whole thing can be a bit overwhelming. There's cushions, essences, ampoules, moisturizers and so much more. If you're a product lover, there's a limitless amount of products to try. What's a woman to do?
Beauty and fashion YouTuber Jenn Im linked up with NBC Olympics to kick off the 2018 PyeongChang Olympics. In the video, she interviewed US athletes to test their K-beauty skills. After watching, I knew I had to join in on the Olympic fun. If you're a newbie, you might not know where to start. Don't worry my friend, I have your back. Even if you're not looking to place in the K-Beauty games, everyone deserves to leave a winner in my eyes. Let the games begin!
The Perfect Dose Of Vitamin C
I love vitamin C products because they give my skin that much-needed glow. Packed with antioxidant properties (in the form of l-absorbic acid), this vitamin aids in collagen synthesis. Collagen synthesis is what gives your skin that supple look.
The "I'll Have Egg Whites" Pore Foam
Albumen, which is known as egg white, is one of the highest quality protein sources because it's packed with Niacin (vitamin B3), and Riboflavin (vitamin B2). This foam will help to exfoliate, refine pores, and control excess oil. This is basically an anti-aging fighter in a foam.
The Bling Bling Sheet Mask
I'm obsessed with sheet masks. This energizing rose gel mask is great for soothing inflamed skin. Formulated with rose extracts, it will cure all of your stressed skin woes. Bonus: it also aids in preventing blemishes, because it's a gentle antiseptic.
The "I've Been Applying, Watermelon" Moisturizer
After releasing a constantly sold out sleeping mask, Glow Recipe upped the ante with this watermelon pink juice moisturizer. Formulated with 90 percent watermelon, and completely oil-free, this moisturizer will keep your skin lightly hydrated all day long.
The Saturdays Are For The Snails Mask Sheet
Unlike other sheet masks that seem to never fully fit, this mask perfectly molds to the contours of your face. With snail mucin as the main ingredient, you'll have firm skin and experience major cell regeneration.
The Soldier of Eye Masks
Formulated with algae, spirulina, and Chondrus crispus, this may sound like the makings of a green smoothie, but actually, it's an antioxidant-packed eye mask. Your eyes will thank you after a long night of Netflix marathons.
The Superhero Of Face Masks
Infused with fermented snail mucin and gold extracts, this sheet mask will hydrate, brighten, and repair dry, dull skin. Since Punxsutawney Phil said there are six more weeks of winter, this mask is clutch AF.
These Lips Are Made For Sleeping Mask
Have you ever felt like your lip balm just isn't doing the trick? Formulated with a moisturizing protective film and Berry Mix Complex, this vitamin C-rich product works to gently exfoliate dry flakes. It's basically a lip savor in a cute, small pink jar. And the tiny applicator to dab your lips with? Swoon-worthy.