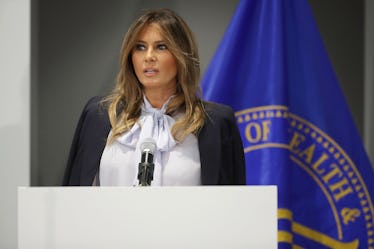 Melania Trump Shared Her Condolences After The Thousand Oaks Shooting
Chip Somodevilla/Getty Images News/Getty Images
It feels like every other month there's a new tragedy America is mourning. Late night on Wednesday, Nov. 7, there was a mass shooting at Borderline Bar & Grill in Thousand Oaks, California, that killed 12 people, according to CNN. Among those to send their condolences to the victims and their families was the first lady. Melania Trump's tweet about the Thousand Oaks shooting is so sad, and familiar.
On the afternoon of Nov. 8, following the events at Borderline, Trump sent out an emotional tweet sharing her grief and sending her condolences to those affected by the shooting. She wrote, "My sincere condolences and prayers go out to all affected by the senseless shooting in Thousand Oaks, California."
It's a sweet statement, but the general sentiment is a little too familiar in an era of multiple mass shootings when public figures frequently share their "thoughts and prayers" while taking little action against gun violence. While the public has come to think of "thoughts and prayers" tweets as the status quo from the White House — both the first lady and President Donald Trump offered their thoughts and prayers following the mass shooting at the Capital Gazette in Annapolis, Maryland, in June — President Trump's tweet about Thousand Oaks was a little less emotional than his wife's. But both acknowledged the terrible events.
After the shooting, the president sent out two tweets that were more informational than emotional. In the first tweet, the president said he'd been briefed on what happened and then detailed the events and death toll, which at the time included the shooter. He wrote,
I have been fully briefed on the terrible shooting in California. Law Enforcement and First Responders, together with the FBI, are on scene. 13 people, at this time, have been reported dead. Likewise, the shooter is dead, along with the first police officer to enter the bar...
In the president's second tweet, he complimented the "bravery shown by police" and then let some "emotion" in and sent his blessings to the victims and their families. President Trump wrote,
Great bravery shown by police. California Highway Patrol was on scene within 3 minutes, with first officer to enter shot numerous times. That Sheriff's Sergeant died in the hospital. God bless all of the victims and families of the victims. Thank you to Law Enforcement.
Despite the praise of law enforcement, it's troubling that they should even be needed at all. As of Nov. 8, there have been 307 mass shootings in 2018 alone, and two of them within the last few weeks, according to Business Insider. The publication points out that Nov. 8 marks day 312 of the year — meaning that there have been almost as many days in 2018 as there have been mass shootings. Even more troubling, according to some reports, some of those who were at the club during the shooting had already survived one massacre — reportedly, some survivors of the Route 91 music festival shooting in Las Vegas, where 58 people were killed, were present.
Some politicians, including Connecticut Senator Chris Murphy and Senators Chuck Schumer and Kirsten Gillibrand of New York, took to social media following the Thousand Oaks shooting and demanded action on gun control reform. "We can stop all this," Murphy tweeted in all caps.
Unfortunately, thoughts and prayers (or thoughts and condolences) aren't enough to stop mass shootings from happening. That will take action.