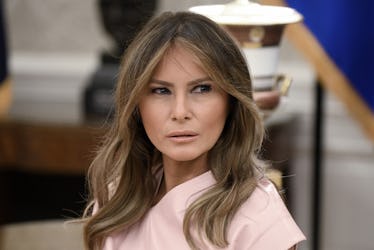 Melania Trump Tweeted About The Capital Gazette Shooting & Where Have I Heard This Before
Pool/Getty Images News/Getty Images
On June 28, tragedy struck Annapolis, Maryland when a shooter opened fire at a local newspaper. This horrific incident is a heavy reminder about the need for gun control legislation, but unfortunately a lot of what's being said is all "thoughts and prayers." Well, Melania Trump's tweet about the Capital Gazette shooting sadly isn't quite that different, and it's basically just an echo of what her husband, President Donald Trump, already said.
After news broke of the Gazette shooting, which killed five people, first lady Melania Trump took to Twitter to share her heartbreak for those impacted by this tragedy.
She tweeted,
Today's violence at the Capital Gazette was tragic & evil. My heart goes out to all affected in this brutal & senseless attack, & I send thoughts & prayers for comfort to the friends, family & colleagues of those killed & injured.
The first lady is right that this incident is tragic, and honestly I have no doubt that she means what she said. However, for those who saw this tweet and thought "hm, now that looks familiar," it might be because Donald Trump tweeted a similar message after hearing about the shooting. Even though Melania Trump's "thoughts and prayers" comment isn't necessarily surprising, her tweet basically just is a sequel to Donald Trump's statement.
Earlier in the day, Donald Trump wrote,
Prior to departing Wisconsin, I was briefed on the shooting at Capital Gazette in Annapolis, Maryland. My thoughts and prayers are with the victims and their families. Thank you to all of the First Responders who are currently on the scene.
I'm all for spouses having each other's backs, but this is kind of pushing it.
The shooting at the Capital Gazette was yet another reminder of the serious issue of gun violence in the United States. First reports of gunshots came on Thursday afternoon, and Phil Davis, a crime reporter for the Gazette who was present during the shooting, tweeted updates after he was evacuated. According to Davis, the gunman "shot through the glass door" of the newspaper office at staffers, leaving five dead.
Trump and Melania's "thoughts and prayers" might come from a heartfelt place, but it doesn't change the fact that the Trump administration has so far done little to solve the epidemic of gun violence within America. Donald Trump might be devastated by news of mass shootings, but apparently his solution to fixing the problem is arming teachers with firearms to protect students. Plus, he hasn't mentioned anything about planning to introduce stricter gun legislation in Congress. Sigh.
Sadly, Trump's tweet about the Gazette tragedy strikes a similar chord to his reaction to the Marjory Stoneman Douglas school shooting in Parkland, Florida on Feb. 14, in which 17 people were killed.
He wrote,
My prayers and condolences to the families of the victims of the terrible Florida shooting. No child, teacher or anyone else should ever feel unsafe in an American school.
After the Parkland shooting, Trump promised to support stronger gun legislation, including more comprehensive background checks and banning bump stocks. However, he later backpedaled, refusing to give his support to gun control policies.
Well, that was February and now here we are, in June, and people are still expressing the same sentiments. The incident in Parkland was truly one of the most horrific school shootings in American history, but sadly basically nothing has been done by Congress to stop this senseless violence from happening. However, revolution oftentimes comes from the most tragic of circumstances, and the Marjory Stoneman Douglas students proved that. Following the shooting, student survivors spearheaded the March For Our Lives protest, which brought together students, teachers, celebrities, and gun control advocates all across the United States in a demonstration to show Congress that gun legislation needs to be addressed.
The fight to end gun violence in the United States is proving itself to be one that won't be easy. From Parkland, Florida to the recent Waffle House shooting in Nashville, Tennessee on April 22, sometimes it feels like absolutely nothing will be done to fix this epidemic plaguing America at the moment. However, as long as individuals continue to stand up and fight for what they believe in, I have no doubt that eventually legislation will reflect what the nation needs. But for advocates for reform, there's another first lady who will leave you with some words of encouragement.
Word, former first lady Obama.