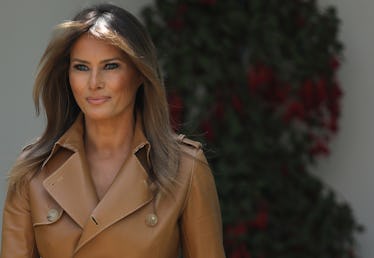 This Clapback About Melania Trump's Reaction To The Stormy Daniels Drama Is Brutal
Win McNamee/Getty Images News/Getty Images
If you've been following the Stormy Daniels drama (and of course you have), it's seriously a never-ending story. Now, Rudy Giuliani decided to add to the narrative on Wednesday June 6 by claiming Melania Trump believes President Donald Trump's story. But, Melania Trump's office clapped back at Rudy Giuliani over his comment, and honestly, it's amazing.
At the "Globes" Capital Market conference in Tel Aviv on Wednesday, June 6, Giuliani told the crowd that Trump apparently doesn't believe Daniels' claims that she had an affair with the now-president back in 2006. "She believes her husband and she knows it's untrue," Giuliani said. Donald Trump has repeatedly denied having an affair with the adult film star, whose legal name is Stephanie Clifford.
But Giuliani should not have spoken for Trump, and he got totally checked for it by Trump's office. Stephanie Grisham, Trump's spokesperson, told Elite Daily in an emailed statement, "I don't believe Mrs. Trump has ever discussed her thoughts on anything with Mr. Giuliani." Talk about salt.
Giuliani and Trump having heart-to-hearts? I mean, come on. Amidst the Daniels drama, Trump has stayed silent on the whole thing, and has never once came in support of her husband. In fact, after the news broke in January, the first lady reportedly traveled to the State of the Union address in a separate car from the president, a sign many took as a signal that she was angry at him. Regardless, a public statement was never issued for or against — so why would she all of a sudden choose to chat with Giuliani of all people?
In reality, I think it's really Giuliani who doesn't believe Daniels' claim that she had an affair with President Trump in 2006 — because he doesn't think porn stars have any credibility. At the conference Giuliani said that "if you're going to sell your body for money, you just don't have a reputation," according to CNN. He said,
So Stormy, you want to bring a case, let me cross examine you. Because the business you're in entitles you to no degree of giving your credibility any weight. And secondly, explain to me how she could be damaged. I mean, she has no reputation. If you're going to sell your body for money, you just don't have a reputation. Maybe old-fashioned, I don't know.
As if that weren't enough, Giuliani also said that he doesn't respect porn stars the way he respects a "career woman" or a "woman of substance," He said,
I respect all human beings. I even have to respect, you know, criminals. But I'm sorry I don't respect a porn star the way I respect a career woman or a woman of substance or a woman who has great respect for herself as a woman and as a person and isn't going to sell her body for sexual exploitation.
I'm sorry, but to come straight out and say that a woman in the porn profession shouldn't be respected or believed, is just wrong. It's completely misogynistic to shame Daniels for being a porn star and basically saying that she is not a "woman of substance" (what does that even mean?). If she takes down the Trump presidency let's see how valuable she is then, Rudy.
Daniels' lawyer, Michael Avenatti, also felt Giuliani was being misogynistic. He responded to Giuliani with a June 6 tweet in which he called the former mayor's comments "disgusting and a disgrace." Avenatti also threw in a salty kicker saying that President Trump didn't seem to have any "moral" issues with Daniels back in 2006. He wrote,
Giuliani should really just stay out of it. He only just got added to President Trump's legal team in April, and already doesn't have the best track record with this case.
The Daniels drama, as it stands now, revolves around a $130,000 payment that was allegedly made to Daniels just before the election in 2016, in exchange for her signing a non-disclosure agreement (NDA). At the time, Michael Cohen, President Trump's attorney said that he "vehemently denies" the report. Then, on Feb. 13, Cohen released a statement that he gave Daniels the money out of his own pocket and that neither the Trump campaign or the Trump Organization were involved, and that Trump had never reimbursed him. (He was later heard complaining that President Trump never paid him back, according to reports.) President Trump has denied all claims of an affair with Daniels and knowledge of any payment made to her. Then, in walks Giuliani, who on May 2 told Fox News' Sean Hannity that President Trump reimbursed Cohen for the payment made to Daniels. Rudy, what are you even doing? I don't know much about working in the White House, but I'm guessing the first rule is to never contradict the president.
There's plenty of drama in this case as it is, and with Rudy Giuliani at the wheel, I'm willing to bet there'll be even more down the road.