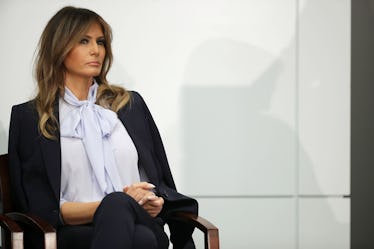 Melania Trump Finally Weighed In On Donald Trump's Alleged Extramarital Affairs
Chip Somodevilla/Getty Images News/Getty Images
Melania Trump has never publicly addressed the reports of her husband President Donald Trump's alleged infidelities, which he has denied — until now, that is. The first lady recently sat down with ABC News for a taped interview during her first major solo foreign trip and was pret-ty frank about the situation. Let's just say Melania Trump's comments on Donald Trump's alleged affairs are along the lines of her infamous jacket that read, "I really don't care, do u?"
In clips of the upcoming interview that were released on Friday, Oct. 12, Trump dismissed her husband's alleged affairs, telling the outlet that she has "much more important things" to worry about than to focus on what he allegedly does with other women. The president's alleged affairs were brought into the spotlight in early 2018 by two women — Stormy Daniels and Karen McDougal, both of whom he has repeatedly denied having affairs with. Elite Daily reached out to the White House for any additional comment regarding alleged affairs, but did not immediately hear back. Trump explained,
It is not concern and focus of mine. I'm a mother and a first lady, and I have much more important things to think about and to do. I know people like to speculate and media like to speculate about our marriage.
When asked if she's been hurt by President Trump's alleged affairs, she took a brief pause, mulling over the question for a few moments, before offering up a measured answer. "It's not always pleasant, of course. But I know what is right and what is wrong and what is true or not true," Trump replied.
She told the outlet that, despite the stunning number of women who have claimed to have affairs with the president, she and the president are doing "fine" and that she's still in love with Donald. "It's what media speculate, and it's gossip. It's not always correct stuff," she said of the allegations. Well, there's that. Check out what she said around the one-minute mark:
The moment marked her first major comments addressing her husband's alleged affairs, as she's generally avoided talking about contentious points regarding their 13-year marriage. One of those topics is an alleged tryst Donald had with adult actress Stormy Daniels in 2006, just months after Trump gave birth to their son, Barron, who's now 12. The White House has denied all of Daniels' claims in a public statement. Elite Daily reached out to the White House for any further comment regarding the alleged affair, but did not immediately hear back. News of the alleged affair broke back in January, when The Wall Street Journal reported that Daniels had been paid $130,000 by disgraced former Trump lawyer Michael Cohen weeks before the 2016 presidential election in a hush money deal. While Trump has denied the affair, he admitted reimbursing Cohen for the payment he made to Daniels.
Shortly after, a second woman, former Playboy model Karen McDougal, came forward with claims that she and the president had an 10-month affair from 2006 to 2007. A White House spokesperson quickly fired back, telling the New Yorker that McDougal's allegations were "an old story that is just more fake news." The spokesperson also added that the president denied having relations with her. Elite Daily reached out to the White House at the time for additional comment, but did not hear back.
Also, a number of women have brought allegations of sexual misconduct against the president during the years he's been married to Trump, many of which resurfaced during the 2016 presidential election. President Trump has denied all of the allegations as well, and the first lady has stuck by his side throughout it all. The White House did not respond to request for additional comment on the multiple allegations against him.
Based on Trump's latest comments, it doesn't look like she plans on changing her support of her husband anytime soon. Marriage is what you make of it, I guess.