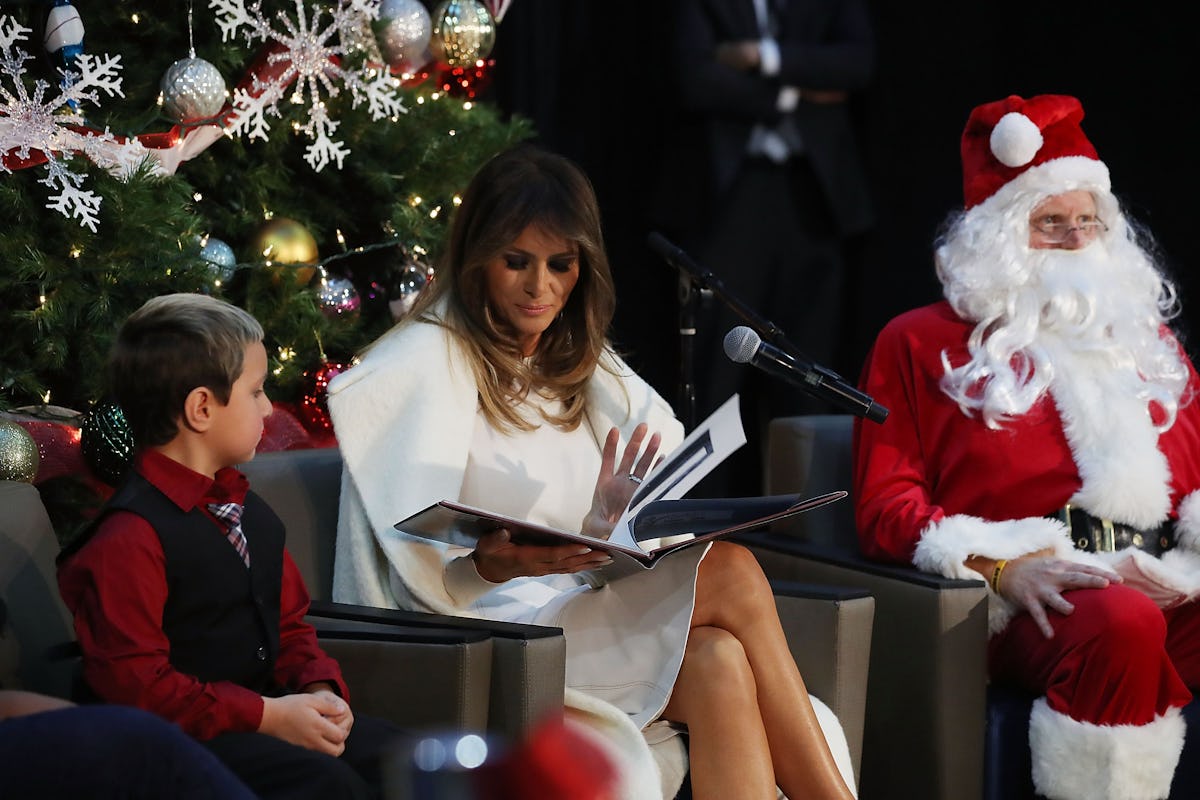 Melania Trump Says She'd Like To Go To A Desert Island For Christmas, And, Uh
Mark Wilson/Getty Images News/Getty Images
The holiday season is one of cheer, but there's definitely downsides, too. It's the season for spending way too much time with your family and your old high school friends, the season for drinking cheap wine every time your distant cousin mentions immigrants at the dinner table. And clearly, I'm not the only one who's a little, uh, hesitant about Christmas. First Lady Melania Trump said she would spend Christmas far away from everyone if she could. Save for her family, of course. Melania, girl. You OK?
During a Dec. 7 visit to the Children's National Hospital in Washington, D.C., the first lady met with patients and their families, before taking questions in the main atrium, per a White House release. A video showed the first lady sitting in front of several Christmas trees with a Santa Claus impersonator while she read The Polar Express and then took questions. Children asked her everything from what her favorite Christmas food is ("healthy food") to her favorite Christmas song ("O Holy Night").
Then, one child asked Trump where she would spend Christmas, if she could go anywhere in the world. And her answer was, uh, unexpected.
"I would spend my holidays on a deserted island," she laughed. Then she quickly clarified, "A tropical island, with my family."
It was a funny answer, and she started laughing with the other adults in the room. But the speed with which she said, basically, "I'd get the hell out of here" has us a little worried.
I don't know what's going on in her mind, but my gut tells me that if you enjoyed your life, you wouldn't be like, "I'd run TF away if I could."
And this isn't going to do any favors for her communications team, which already has to deal with rumors about how miserable she is as first lady every couple of months.
As recently as Nov. 27, the Office of the First Lady had to release a statement assuring the country that Trump loves her role, after a bombshell Vanity Fair report which stated that she loathes her public position.
FLOTUS Communications Director Stephanie Grisham told Fox News,
Once again part of the liberal media, this time Vanity Fair, has written a story riddled with unnamed sources and false assertions. As a magazine tailored to women it is shameful that they continue to write salacious and false stories meant to demean Mrs. Trump, rather than focus on her positive work as First Lady and as a supportive wife and mother. [...] As has been stated on the record many times before, she is honored by her role.
In all fairness to FLOTUS, she seemed to enjoy taking questions from the kids. She was attentive and genuinely enjoyed talking to them. I mean, we all saw her what-am-I-doing-with-my-life smile-frown at the inauguration, so I don't think this grin is acting:
But that's par for the course for Trump, who regularly interacts with children as part of her first lady duties. In fact, the only times I've really seen her smile — full-faced, right into the eyes — is when she has come face-to-face with kids.
There was the recent White House trick-or-treating celebration, where she delighted in kids' Halloween costumes.
And, of course, during the Trumps' visit to Rome, she went to a children's hospital, where she hung out with kids and reportedly had a fantastic time.
But clearly that only helps marginally when it comes to the rest of her duties. And her pithy desert island answer is only the latest suggestion that she really, really doesn't like being FLOTUS.
After all, there was the fact that she didn't move to Washington, D.C. with her son Barron until June.
And, uh, this, at the inauguration.
And, of course, the super dark Christmas aesthetic, which she snuck into the White House Christmas decor.
So many cries for help.
It's okay, Melania. We understand. We'd definitely spend Christmas on the other side of the world from your husband if we could.