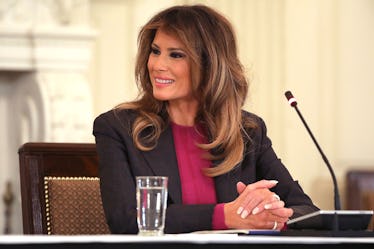 Melania Trump Made Her First Public Appearance In Weeks So There Go Those Theories
Chip Somodevilla/Getty Images News/Getty Images
Welp, it was fun while it lasted. The saga surrounding the first lady's whereabouts following her emergency kidney surgery just came to an end, because on June 4, Melania Trump made her first public appearance in weeks, at an event for Gold Star families. And before you start conjuring up even more conspiracies about whether or not it was officially her, you should know that she even took to Twitter to share a few photos of herself at the event.
Trump hosted the reception for Gold Star families — an event that recognizes those who died while serving in the military and their loved ones — alongside President Donald Trump. The reception marks the first time she's been spotted publicly since May 10, when she and her husband welcomed back freed American prisoners upon their return to the United States after being held captive in North Korea. Her absence from public life raised a lot of questions — some more serious than others.
But at the June 4 event, she appeared to look better than ever (IMO). In the photos, Trump is shown sitting next to the president in the front row, wearing a chic black dress and heels. She captioned the post:
Tonight @POTUS & I were honored to pay tribute to our fallen heroes. Thank you to the Gold Star families that joined us in celebration & remembrance.
Trump had been out of the public eye for almost 25 days after having to go under the knife to treat a kidney condition. Her absence ignited a ton of jokes and conspiracy theories on social media, as well as in the news, which prompted her to clap back against the media in a tweet shared to her Twitter page on May 30. She wrote,
I see the media is working overtime speculating where I am & what I'm doing. Rest assured, I'm here at the @WhiteHouse w my family, feeling great, & working hard on behalf of children & the American people!
I'm so glad she's back and in good health, but you've gotta admit: some of the jokes were pretty damn funny.
Many Twitter users suspected that the first lady had ditched her position and moved back to New York.
The most relatable theory, ladies and gents:
LOL!! I am not laughing at this, OMG.
In all seriousness, though, it was a pretty scary situation when it was suddenly announced that Trump had undergone an embolization procedure to treat a kidney issue, especially considering the fact that there was no indication she had been suffering from any ailment whatsoever. Stephanie Grisham, Trump's communications director, broke the news through a statement on May 14, writing:
This morning, first lady Melania Trump underwent an embolization procedure to treat a benign kidney condition. The procedure was successful, and there were no complications. Mrs. Trump is at Walter Reed National Military Medical Center and will likely remain there for the duration of the week. The first lady looks forward to a full recovery so she can continue her work on behalf of children everywhere.
In an email to Elite Daily, Grisham declined to comment on whether or not the surgery was planned, when Trump was diagnosed with the health issue, and if anything in her role or activities recently contributed to the condition, but at least with this latest appearance we have a little more solace that she's seemingly doing well enough to get back to her duties.
IDK about you, but it feels to great to be able to put the speculation to rest about where the heck she's been over the past three weeks, and to know that she's doing fine and looking better than ever. I truly am looking forward to seeing how things play out for her and her other endeavors in the days to come.
Welcome back, Melania!