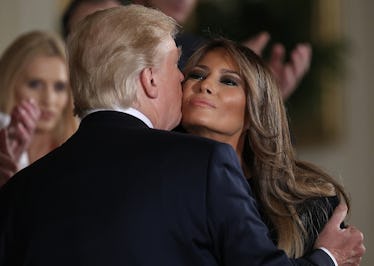 Melania & Donald Trump's Wedding Cake Is Being Auctioned Off If That's What You're Into
Win McNamee/Getty Images News/Getty Images
A cake from first lady Melania and President Donald Trump's wedding is up for grabs and can be yours for a small-ish price. The cake, which was given to guests as a souvenir at the 2005 nuptials, is being offered via auction and, at the time of writing, has not surpassed the $1,000 mark. The auctioneer's description of Melania and Donald Trump's wedding cake reads,
A souvenir wedding cake from the 2005 celebration of Donald Trump and Melania Knauss' marriage. The individual chocolate truffle cake with a single white frosting rose on top was a wedding favor to be taken home by guests. It is housed in a white paper box monogrammed M D T. The actual seven-tier wedding cake reportedly cost $50,000 and was not eaten by the wedding guests due to the amount of wire used to make it stand.
The bidding for the cake started at $250 and is estimated by the site hosting the auction to be sold for between $1,000 and $2,000.
As the description indicates, the cake up for bid is not the centerpiece wedding cake from the Trumps' ceremony. In fact, that would likely cost way, way more than a couple thousand dollars. That particular cake took two months to design and was a yellow sponge cake that was soaked in Grand Marnier and featured 2,000 "individually constructed flowers" that were sculpted out of sugar, an April 2016 report fromThe Hollywood Reporter states. As the auction description says, it was not eaten by any of the guests because there were wires in it to hold the cake up.
There were many more extravagances reported at the Trumps' wedding, however. The music was provided by an orchestra and the ceremony was held in a $35 million ballroom at Trump's Mar-a-Lago resort in Florida. And then there were the guests. It's well known that former Secretary of State Hillary Clinton and former President Bill Clinton were guests at Trump's wedding — which adds a bit of irony to the Trump-Clinton political feud — but there were plenty of other famous guests in attendance, too. Singer Billy Joel, model Heidi Klum, baseball legend Derek Jeter, and fashion icon Anna Wintour are just some of the big names who were invited to witness Donald and Melania Trump's union, according to The Hollywood Reporter.
"Let me tell you something," a source told the publication. "If someone had dropped a bomb on that place, it would have wiped out an entire generation of famous Americans."
How It All Started
Donald and Melania Trump's wedding occurred seven years after they met at a Manhattan night club during a New York fashion week party in 1998.
"I went crazy," Donald Trump would recall during an interview with Larry King in 2005. "I was actually supposed to meet somebody else. There was this great supermodel sitting next to Melania. I was supposed to meet this supermodel. They said: Look, there's so and so. I said: Forget about her. Who is the one on the left? And it was Melania."
A month after they'd met, the real estate mogul flew with Melania to Palm Beach for a weekend together at Mar-a-Lago, the New York Post reports. Years later, the pair would get married at the same site, in front of a crowd filled with A-list celebrities.
And, if you ever wondered whether you could get your hands on a memento that would help you imagine what it was like to be there (because who hasn't?) you're in luck. A cake from the wedding is up for grabs, and it might only cost you a couple thousand.