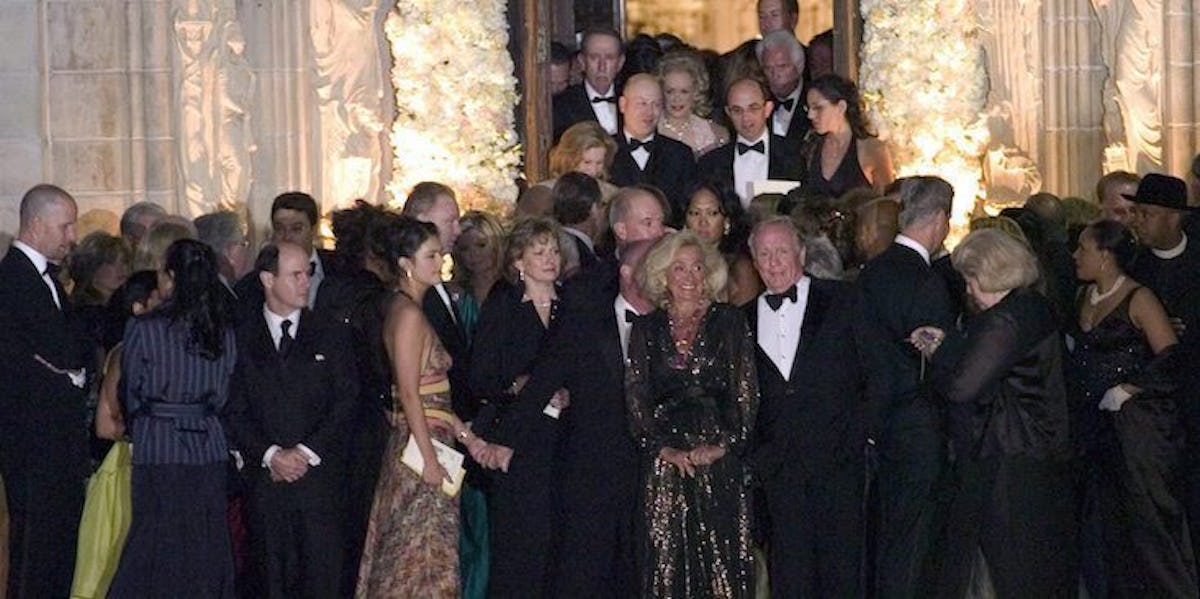 8 Celebrities You Won't Believe Attended Donald And Melania Trump's Wedding
Joanna Gleason/EPA/REX/Shutterstock
It seems the commander-in-chief is a fan of nuptials. Multiple times this year, President Donald Trump has crashed complete strangers' weddings while at his golf course in New Jersey. (Most recently, earlier this week.) Oddly enough, he can relate to this experience, as he's also had a president attend his own wedding. The Hollywood Reporter did some digging on Donald and Melania Trump's wedding guest list, and the range of people who showed up to celebrate the couple is pretty incredible.
For anyone keeping count, Trump has been married three times, and each was its own memorable affair. His wedding to Melania Knauss took place at his Mar-a-Lago resort in Palm Beach, Florida in January 2005. Apparently, it was Melania who nixed her fiancé's idea of broadcasting the wedding live, or else we'd have a lot more footage to enjoy of this over-the-top day.
They say don't outshine the bride, but there wasn't much chance of that at this particular wedding. The bridal gown cost $100,000, and the cake weighed over 200 lbs. Having 350 A-List invitees fill out the dance floor seems only fitting.
In any case, there was certainly no shortage of celebrities from all departments (and you can bet they were all dressed to the nines). In describing the affair, THR quoted Sandra Rose, the wife of the bandleader at the wedding, who said,
Let me tell you something. If someone had dropped a bomb on that place, it would have wiped out an entire generation of famous Americans.
She had a point. Check out these names, representing just a handful of those in attendance.
Heidi Klum
Ahh, the good old days, a full decade before Trump would call the world-renowned model and TV personality Klum "no longer a 10."
Chris Christie
According to the New York Times, the history between Trump and Christie goes back 14 years, to 2002. (For context: That's the same year Kelly Clarkson won American Idol. Feels like a lifetime, right?)
Hillary Clinton
The famed picture of the New York elites smiling and laughing together had a story to it. According to The New York Times, some of Hillary's friends were surprised that she attended, though the two had quite a history.
Shaquille O'Neal
Even during his run for president a decade after the wedding, "Shaq" stood by Trump's side, calling him a "straight-up guy."
Simon Cowell
Perhaps the American Idol judge found common ground with Trump as harsh reality TV personalities. In any case, Cowell would go on to suggest an America's Got Talent episode with Trump and Clinton (which, sadly, has yet to happen).
Kelly Ripa
The following year, she went on to host Trump on her show, LIVE (where he talked about running for president). "He's been a friend of mine for fifteen years," Ripa said in a recent interview on Late Night With Seth Meyers.
Regis Philbin
Originally famous for hosting the TV show Who Wants To Be A Millionaire?, Philbin attended this reportedly million-dollar wedding.
Rudy Giuliani
As a former mayor of New York for eight years, he's been a friend of Trump's for over two decades, as the New York Times reported back in 2016, and "talk[s] to him on a pretty regular basis."
This is just a few of the over 300 people, from most major circles of fame, who were invited to Trump and Knauss' wedding. But if the attendees were happily witnessing the nuptials in 2005, perhaps by 2016 their moods had soured. THR apparently put out 89 calls to the former attendees, none of which were returned.