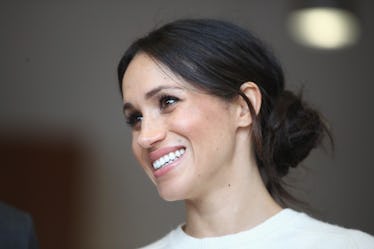 Meghan Markle's Former Trainer Says No Workout Is Complete Without These 5 Things
Chris Jackson/Getty Images Entertainment/Getty Images
Everyone falls into a rut from time to time in their workout routine. Personally, whenever things start to feel stale, I like to turn to my favorite celebs and see what their tips are for staying active, and most importantly, loving every minute of it. Meghan Markle's workout tips, in particular, are practical and simple AF. Honestly, I think it's because everything that woman does is absolute #goals.
To get a sense of what makes Markle's workout routine so motivating (and how she sticks with it in the midst of planning a wedding and casually becoming British royalty), her former trainer, Craig McNamee, gave Women's Health a little peek into what the princess-in-waiting's go-to fitness tips actually look like.
Believe it or not, the key things that shape Meghan Markle's workout routine aren't flashy or elaborate in any way, shape, or form. They're the most straightforward, doable things that even those of us who aren't poised to become British royalty can incorporate into a typical trip to the gym.
If you've been feeling like your sweat sesh is missing something lately, here are five key tips from Markle's longtime trainer to help you spice things up and stay committed to your routine.