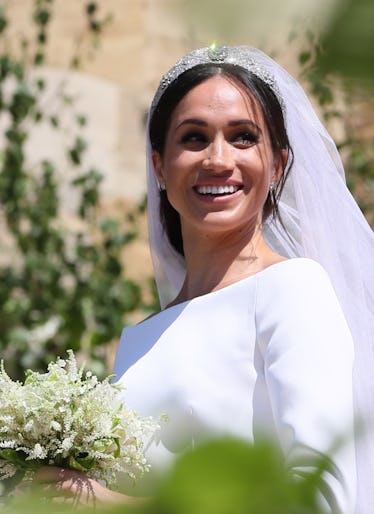 Meghan Markle's Gorgeous Hair Details You Didn't Notice At The Royal Wedding
WPA Pool/Getty Images Entertainment/Getty Images
Many girls dream about their entire look for their wedding day and have Pinterest boards overflowing with ideas. The choices are truly endless, from your gown and bridesmaid dresses, to the color palette and floral arrangements. Every choice is an important one, and picking out the perfect hairstyle for your special day can be a daunting experience. You want just the right look that complements your dress and headpiece. Well, if you're in need of some inspo, the royal wedding day is upon us, and Meghan Markle's wedding hairstyle is giving me life.
With the headpiece and boat-neck Givenchy dress, designed by Clare Waight Keller, she chose, her elegant low, slightly messy bun hairstyle (with some natural wisps of hair falling on her left side) was truly the perfect choice. It's timeless, which is a crucial factor when choosing your hairstyle. She will have stunning wedding pictures to look back on forever, and her fashion choices for the big day will always look so fresh. Markle's loose, simple, elegant hairstyle is a perfect combination with the classy style of her wedding gown.
Imagine the pressure on her hairstylist to get it exactly right. Well, regardless of how high the stakes were the stylist who created Markle's hairdo — Serge Normant, according to Kensington Palace — did a fabulous job, and Markle looks so elegant from her head down to her toes.
I'm sure many brides-to-be over the next year will attempt to recreate different parts of Markle's wedding look, and who can blame them?
A royal wedding is a true fairy tale we all wish we could be part of (or at the very least, marrying a prince would definitely suffice, TBH).
I'm just curious as to what came first, the chicken or the egg. (Aka, did Markle fall in love with the veil and decide on a hairstyle to complement that? Or, did she always want to wear her hair in a low bun on her wedding day and choose the most beautiful headwear for that particular style.)
Seriously though, if you're reading this, Meghan Markle, we need to have some major girl talk.
Whichever came first, the entire look is perfectly stunning in every possible way, and her tiara glistens in the light.
Naturally, every bride hopes for perfect weather on her wedding day, because outdoor pics are wedding album #goals. But also, let's be real here: A bad hair day just will not do! Rain or shine, though, we all knew in our hearts Markle would be a ray of sunshine. And if you are lucky enough to have long locks like Markle, there are so many choices for your look. Your stylist can honestly try to create something unique you've never had done in your life, if you wanted to go that route.
If you recall, Kate Middleton wore her hair down on her wedding day a little over seven years ago, so many of us were wondering if Markle would do the same with a long veil. Both ladies channeled different hairstyles on their special days.
Meghan decided to wear her hair in a low, elegant bun.
In royal appearances before this royal wedding day, we have seen Markle wear her hair in her signature messy bun and down quite a bit. I was very curious as to whether or not she would keep it similar to these looks, or very different for her wedding day. I know one thing is for sure, her hair is always #goals, and I literally wish mine was just like it!
Let's be honest here: Markle's hair looks absolutely exquisite, and a beautiful tiara is the pristine finishing touch for this gorgeous bride.