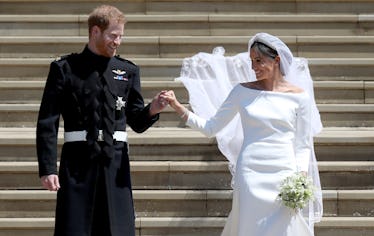 This Secret Detail In Meghan Markle's Wedding Dress Was Just For Prince Harry
WPA Pool/Getty Images Entertainment/Getty Images
It's been months since the nuptials of the year, aka Prince Harry and Meghan Markle's fairytale ceremony back in May, brought out everyone's inner romantic (and royal wedding fanatic), but a new documentary is taking a step back to when the former Suits actress was just an American commoner about to wed a prince. Titled Queen of The World, the upcoming ITV film (which can be viewed on HBO on Oct. 1 in the United States) highlights a few details from the unforgettable festivities that fans almost missed, and they are giving fans some serious feelings. Apparently Meghan Markle's "something blue" paid homage to this sweet moment with Prince Harry, and the ultra-romantic gesture is making me believe in love all over again.
In a sneak peak of the documentary, which was released by the Royal Family's official Twitter account on Sunday, Sept. 23, the new duchess can be seen getting emotional as she reunites with her timeless Givenchy wedding dress for the first time since becoming a part of the royal family.
"My goodness. Amazing isn't it? Beautiful," a beaming Markle says in the video clip as Royal Collection Trust curators ready the gown for an exhibit display, per Harper's Bazaar. That's when the newlywed admitted that she'd had something secretly sewn into her dress to make her big day all the more romantic: an homage to the very beginnings of her relationship with her new husband and the classic wedding adage, "Something old, something new, something borrowed and something blue."
"Somewhere in here there's a piece of... did you see it?" the former actress asks, gesturing to the gown. "The piece of blue fabric stitched inside. It was my something blue. It's fabric from the dress I wore on our first date." The curator replied, "Oh, that's about the most romantic thing I've ever heard." TBH, I have to agree with her.
Considering that Prince Harry has admitted that he was totally blown away by Markle's beauty on their first blind date — "I was beautifully surprised when I walked into that room and saw her. I was like, 'Okay, well I'm going to have to up my game,'" the prince adorably gushed in a joint interview after news of their engagement first broke in November 2017 — the secret gesture was the perfect way to keep a day celebrating their love story all about them during a very public ceremony that was watched by millions around the world.
The Duchess of Sussex didn't stop there, as she also had a meaningful tribute to her new family hand-embroidered on her cathedral-length wedding veil. Apparently her husband-to-be was "over the moon" by her decision to embellish her silk tulle headpiece with an organza trim featuring 53 flowers (in reference to the 53 counties of the British Commonwealth).
"[Prince Harry] was really over the moon to find out that I would make this choice for our day together," Markle says in the clip. "And I think the other members of the family had a similar reaction and just appreciation for the fact that we understand how important this is for us and the role that we play and the work that we're going to continue to do within the Commonwealth countries."
In hindsight, the combination of meaningful gestures might have just set the royal over the top. Prince Harry seemed even more smitten during his May 19 nuptials than usual, which was evidenced by the now-iconic lip bite that was seen 'round the world.
Say what you want, but it's clear that Meghan knows how to make one unforgettable romantic gesture.