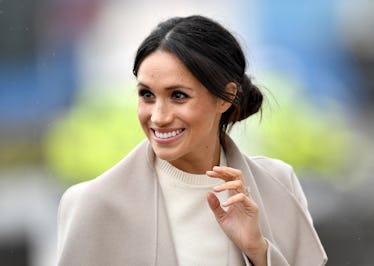 Meghan Markle Has A Secret Talent & It Will Make You Feel So, So Jealous
Charles McQuillan/Getty Images Entertainment/Getty Images
It's almost not fair that Meghan Markle is a gorgeous, excellent actress AND engaged to royalty. Leave some stuff for the rest of us, would you? But guess what? She's got something else up her sleeve that I didn't know about, and it proves that she's talented AF in more ways than one. Yep, Meghan Markle's secret talent is calligraphy, and now I'm officially jealous.
According to People, Markle taught calligraphy at Paper Source — a store that offers unique papers, invitations, and various wrapping — in Beverly Hills from 2004 to 2005. The store's CEO, Winnie Park, told People:
It was her part-time job as she was going through auditions ... She taught calligraphy and hosted a group of customers and instructed them during a two-hour class on how to do calligraphy.
What I wouldn't give to have been in that class.
On top of her job at Paper Source, she also was a freelance calligrapher, and actually wrote the invitations for Robin Thicke and Paula Patton's wedding back in 2005.
Like I said, sometimes life isn't fair and hands out multiple talents to one person, and leaves others with pretty much nothing. (It's me. I'm talking about myself.)
But Markle really loves handwriting notes, and, in a post from her former lifestyle blog, The Tig, she said:
I think handwritten notes are a lost art form. When I booked my first [TV] pilot, my dad wrote me a letter that I still have. The idea of someone taking the time to put pen to paper is really special.
YUP. Officially wishing I was Meghan Markle right about now.
Park also added that Markle is "someone who really enjoys the creative aspects of the job, who enjoys helping people and also someone who enjoys making creative projects come to life ... Our sales associates are screened for their creativity." On top of that, Markle "has talked about being a big fan of custom stationary and think it's the best gift to give a friend."
Who knew Markle was such a creative person?
Really trying to keep my envy at bay here, but it's really hard, you guys.
But her secret talent does make sense, especially considering Meghan Markle and Prince Harry's wedding invitations are breathtakingly gorgeous.
The invitations, made by Barnard Westwood, "feature the Three-Feathered Badge of the Prince of Wales printed in gold ink," according to Elle, but American ink is incorporated as well as a nod to Markle's nationality:
Could the calligraphy be any more beautiful? NOPE.
Kensington Palace gave the world some more of a backstory to the invitations on Twitter, revealing that each royal wedding invitation was created through the process of die stamping:
Lottie Small, who recently completed her apprenticeship, printed all of the invitations in a process known as die stamping, on a machine from the 1930s that she affectionately nicknamed Maude.
And then, using American ink on "English card, the invitations are printed in gold and black, then burnished to bring out the shine, and gilded around the edge":
Are you for real with this magnificence?
And honestly, we wouldn't expect anything less from Markle, especially now that we know she could basically write her wedding invitations herself perfectly.
Park also revealed that she believes the royal couple will follow up their royal invitations with an additional, more personal invitation. "They are a couple who would send a personal touch to close friends and family ... My guess is they will likely have a very personal invitation going out specifically for events before or after the formal ceremony."
If they do go that route, my guess is that Markle will be in charge of writing those out. Just a hunch!