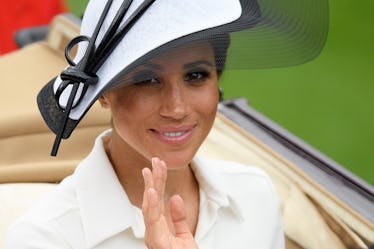 Meghan Markle Wore Another Dress By Her Wedding Gown Designer & It's Just As Gorgeous
Leon Neal/Getty Images Entertainment/Getty Images
Happy one month anniversary to Meghan Markle and Prince Harry! The Duke and Duchess of Sussex are marking 30 days of marriage by attending the Royal Ascot, an esteemed British horse race and social event. The affair has strict dress code and Meghan Markle's Royal Ascot look is actually a brilliant homage to her wedding outfit.
Before I get to Markle's fashion choices, I need to find out, what is the Royal Ascot? In short, it's a horse race. In reality, it's so much more than that. Queen Anne established the annual event in 1711 and Britain's reigning monarch has attended every year since. Beginning in 1825, with King George IV, the country's king or queen has kicked off the day with a grand entrance of a carriage ride loop around the racecourse with his or her royal squad. The carriage procession is, of course, invite only and as such it's a who's who of British royals. Markle and her hubby were fortunate enough to make the cut for this year's carriage ride (I mean duh, why wouldn't they have been invited?) and the couple definitely looked the part.
The Royal Ascot is deemed a formal event by Queen Elizabeth and the dress code is thus v strict. Attendees must follow stringent fashion rules based upon where they're seated within the arena, and as you may guess, those nearest to the queen must abide by her extremely high sartorial standards. Take a look and see how Markle's #lewk holds up.
Per the Royal Ascot website, Ladies in the Royal Enclosure must wear "formal daywear" which outlaws garments with short hemlines, dictates that dress straps must be at least one inch wide, and mandates hats or headpieces with a "solid base of 4 inches." Kindly note, fascinators are not allowed. Looks like Meghan checked off all of the necessary boxes.
Markle wore a modest Givenchy shirtdress and a Philip Treacy hat. The dress was all-white with tonal floral embroidery at the waist and a contrasting black leather belt. Markle finished off her look with an understated pair of silver earrings, a simple black clutch, and barely-there nail polish (another royal fashion rule). Does that dress brand sound familiar to you, though? It should!
Meghan Markle's cape dress from her visit to Cheshire with the queen was also Givenchy, it even featured a very similar black belt. But there's more!
Markle's wedding ceremony gown was Givenchy! That timeless masterpiece was custom-designed by Givenchy's Artistic Director, Clare Waight Keller, and while Markle's daytime looks were likely less personalized, it's clear she favors the brand.
Markle fit right in as she mingled with Camilla Parker Bowles, Duchess of Cornwall (aka: Harry's stepmother). Her Givenchy dress had an asymmetrical hem that more than fit the event's guidelines. The American also wore a pair of black leather pumps with a thicker heel than her usual stilettos, probably to make walking in the grass a tad easier.
The cherry on top of Markle's look was a black and white Philip Treacy hat. Treacy is a favored hat designer of British high society, the milliner often creates one-of-a-kind toppers for elite customers. Markle, however chose an off-the-rack design (she is so relatable) from Treacy's spring-summer 2018 collection.
Prince Harry also had fashion rules to follow. Men in the royal enclosure must wear "black or grey morning dress" which includes "a waistcoat and tie (no cravats), a black or grey top hat, [and] black shoes worn with socks." Harry's got a lifetime of practice with dressing for such events, so I bet this was an easy one for him, but he looks dapper AF.
According to the Royal Ascot website, the event is "an occasion heralded as a major fashion event in its own right." More than a horse race, it's "synonymous with sartorial elegance." Translation: Markle had concrete, strict AF fashion rules to follow while also unofficially being expected to look impeccably stylish. I'd say, she accomplished both of those tasks with flying colors, or in this case, black and white.