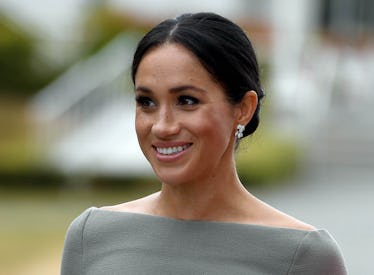 Meghan Markle Stuck To Tradition When It Came To Trump's U.K. Visit
Pool/Getty Images Entertainment/Getty Images
On July 12, Donald Trump traveled across the pond to enjoy his first United Kingdom visit as president. During his two-week stay, Trump will meet with top figures including Prime Minister Theresa May and Queen Elizabeth. However, there's one certain Duchess that might not be so pleased the United States' leader is on her home turn, but Meghan Markle's response to Trump's U.K. visit was left unsaid.
It's true: Markle stuck with royal protocol and did not address Trump's visit to the U.K. It's tradition for the royal family to stay silent about politics, and this case was no different. Her husband, Prince Harry, stayed silent as well.
On July 13, Trump not only met with Queen Elizabeth at Windsor Castle, but he also received the Guard of Honour during his stay. Once news broke that these two powers were gathering, people naturally started wondering whether that meant Trump would also cross paths with royal newlyweds Meghan Markle and Prince Harry. Although it seemed unlikely, British tabloid The Daily Express hinted on June 30 that there might be a chance members of the royal family, including Markle and Prince Harry, might attend the banquet being held in Trump's honor. Elite Daily reached out to Kensington Palace for comment on the royal family's plans for Trump's visit at the time, but did not hear back.
Meghan Markle is unlike any newly appointed royal Windsor has ever encountered, mostly because she's known to always speak her mind and speak out on issues that are passionate to her. She may be a duchess, but she truly acts like a queen.
Throughout her career, Markle has openly expressed her support for women's rights organizations including #MeToo and Time's Up. In fact, when Markle joined Prince Harry, Prince William, and Kate Middleton in February to attend the first annual Royal Foundation Forum, Markle openly discussed the importance of women speaking out against sexual harassment and supporting one another's voices.
She said,
Women don't need to find a voice, they have a voice. They need to feel empowered to use it, and people need to be encouraged to listen. We're seeing so many campaigns — #MeToo, and Time's Up. There is no better time than to really continue to shine a light on women feeling empowered and people really helping to support them, men included in that. It makes such a tremendous difference.
The Royal Foundation Forum is a charitable organization run by Prince William, which focuses on tackling issues including women's rights, environmental justice, mental health, and others. Can you say #squadgoals?
Given Markle's support of women empowerment organizations such as #MeToo and #TimesUp, it wouldn't be that surprising if Markle wasn't the biggest fan of Donald Trump. The former reality television star certainly has a controversial history involving women, especially when it comes to his choice of words.
In October 2016, The Washington Post obtained a 2005 video that showed Donald Trump appearing on television program Access Hollywood. In the video, Trump makes numerous sexist comments to host Billy Bush. While speaking to Bush, Trump tells the television host about all the benefits of being a celebrity, particularly that it somehow allows him to touch and grope women without their permission.
He said,
I've gotta use some Tic Tacs, just in case I start kissing her. You know I'm automatically attracted to beautiful — I just start kissing them. It's like a magnet. Just kiss. I don't even wait. And when you're a star they let you do it. You can do anything... Grab them by the p*ssy. You can do anything.
Taking into account that's only one of a few problematic comments that's come from Trump's mouth, I doubt him and Markle will be enjoying any one on one tea dates in the future. Oh well, at least he can say he's met the queen.