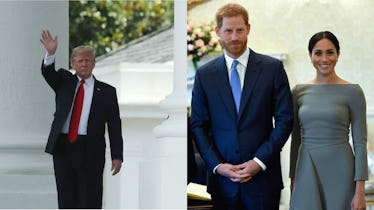 Don't Get Your Hopes Up About Meghan Markle & Prince Harry's Plans For Trump's Visit
Mark Wilson/Getty Images News/Getty Images & Pool/Getty Images Entertainment/Getty Images
Donald Trump's upcoming visit to the United Kingdom is certainly causing quite a stir across the pond. On July 13, Trump will meet with British Prime Minister Theresa May with hopes to discuss possible alliance activities. Even though the visit is sure to be politically-focused, one has to wonder: is Trump meeting Meghan Markle and Prince Harry during his trip to the U.K.? To be honest, it's doubtful.
On July 12, Trump will land in the United Kingdom and come face to face with British royalty. Not only will he rub shoulders with important political figures such as Prime Minister Theresa May and newly appointed Foreign Secretary Jeremy Hunt, but there's one other important figure he's set to visit. On July 10, Buckingham Palace announced that Donald Trump will meet Queen Elizabeth, and will receive the Guard of Honour on July 13. So, with his upcoming tea date with the Queen, one has to wonder whether Trump will be crossing paths with royal newlyweds Meghan Markle and Prince Harry as well. I'm going to say it seems unlikely.
After all, it's no secret that Donald Trump didn't land an invite to Markle and Prince Harry's wedding that took place on May 19. In January, BBC News asked Trump whether he had received an invitation to the royal wedding, which he reportedly said "not that I know of." Well, clearly that was the case because on May 19, Markle and Prince Harry exchanged vows in a beautiful ceremony, and Donald Trump was nowhere to be seen.
Then again, according to British tabloid The Daily Express, there's a chance that members of the royal family — possibly including Meghan and Harry — would attend a banquet with the visiting Trumps, which I'm just going to say now would be awkward. Elite Daily reached out to Kensington Palace for comment on the royal family's plans for Trump's visit, but did not immediately hear back.
Even though political officials might be anticipating Trump's upcoming trip, it doesn't look like U.K. residents are as excited. Trump will touch down on July 13 (aka Friday the 13th) and protests have already erupted across the United Kingdom in response to the United States' leader's arrival. Clearly U.K. residents aren't pleased that the former reality television star will be gracing their city, but at least they don't have to live in the same country as him.
I may not know everything about the possible friendship between the royal couple and Trump, but I wouldn't be surprised if the United States' leader and Markle didn't exactly get along. After all, Markle has openly discussed her fight for women's rights and support of the #MeToo movement. In February, Markle attended the first annual Royal Foundation Forum along with Prince Harry, Kate Middleton, and Prince William. During the forum, Markle discussed the importance of women "speaking up" about sexual harassment and always listening to women's stories.
She said,
Women don't need to find a voice, they have a voice. They need to feel empowered to use it, and people need to be encouraged to listen. We're seeing so many campaigns — #MeToo, and Time's Up. There is no better time than to really continue to shine a light on women feeling empowered and people really helping to support them, men included in that. It makes such a tremendous difference.
Time and time again Markle proves that she's royalty even before she received her Duchess of Sussex title. So, taking her thoughts into account, it's safe to assume that she might not be the biggest fan of Donald Trump. It's no secret that the former reality television star has quite the controversial history when it comes to women, especially concerning his choice of words. Who could forget October 2016, when a 2005 video obtained by The Washington Post surfaced which showed Trump telling Access Hollywood's Billy Bush about the benefits of being a celebrity, particularly how it's an excuse to grope women without consent.
He said,
I've gotta use some Tic Tacs, just in case I start kissing her. You know I'm automatically attracted to beautiful — I just start kissing them. It's like a magnet. Just kiss. I don't even wait. And when you're a star they let you do it. You can do anything... Grab them by the p*ssy. You can do anything.
Unfortunately, that's just one of a few sexist comments that's come from Trump's mouth. So, I wouldn't be surprised if he doesn't get invited for coffee or tea with Markle and Prince Harry during his upcoming stay. However, if he does, let's hope he keeps his comments to a minimum.