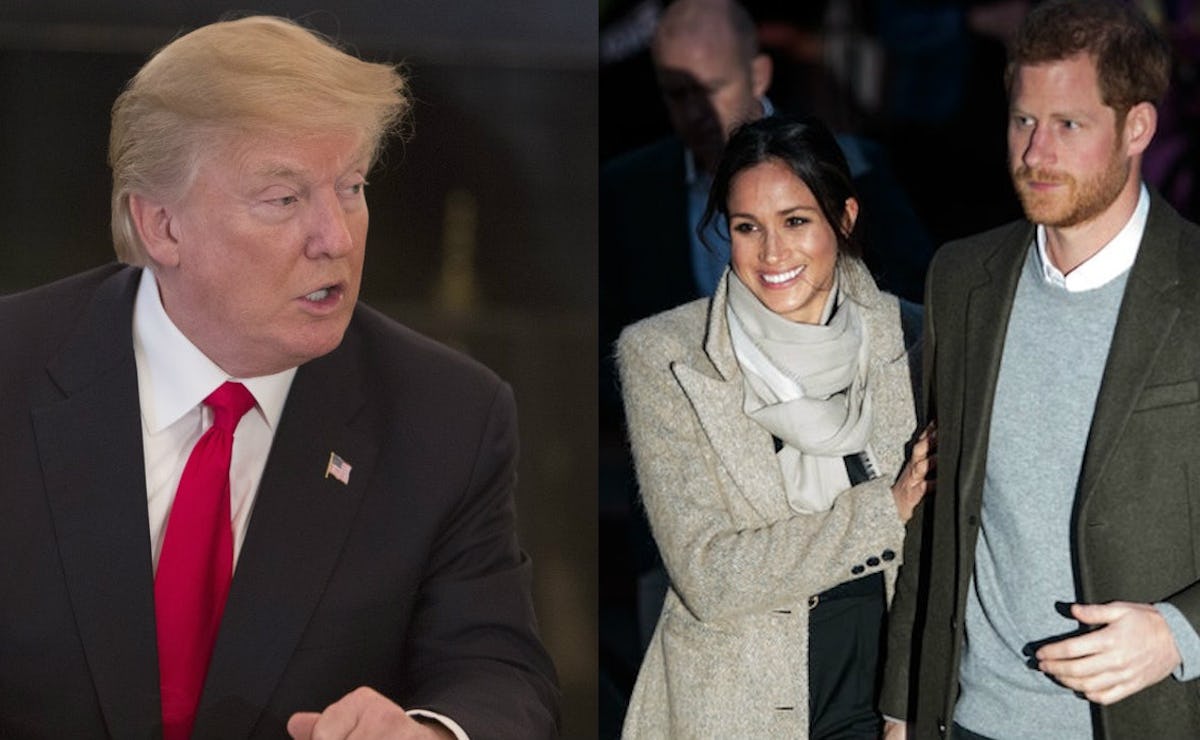 Donald Trump Isn't Invited To The Royal Wedding, So That's Awkward
POOL/JACK TAYLOR/GETTY IMAGES NEWS/GETTY IMAGES
As you probably know, Prince Harry and Meghan Markle will be getting married on May 19, 2018. I can imagine it's going to be an extravagant, star-studded event — and I'm jealous of anyone who got an invite. However, I'm a little curious about one thing: Will President Donald Trump be at the royal wedding? Apparently, he isn't aware of any invitation to the event... so that's awkward.
That's right: Chances are that the president won't be attending Meghan Markle and Prince Harry's big day — and TBH, it's not that surprising. According to BBC News, Markle has referred to Trump as "divisive" and "misogynistic," which further proves his invite probably wasn't lost in the mail. Plus, Markle supported Hillary Clinton during the 2016 presidential election, so I'd imagine she'd get an invite before Trump did (Hillary, you going?).
When asked if he received an invite to the royal affair, Trump reportedly said "not that I know of," per BBC News. Yikes. Being left out is always a crappy feeling, but being called out in a situation like this is basically cringeworthy.
Sorry, Donald. It looks like you'll be watching the wedding from afar like the rest of us.
Even though Trump didn't get an invitation to the royal wedding, he still wishes the young couple well. During an interview with Piers Morgan, Trump said that Markle and Prince Harry "look like a lovely couple" — even though his invitation to the wedding never came (and probably won't). When asked if he wants to attend, Trump said, "I want them to be happy. I really want them to be happy." So, like... is that a yes or a no?
Shockingly, Trump showered the couple with another compliment during the interview. After Morgan reminded Trump that Markle once called him a "divisive misogynist," he responded with, "Well, I still hope they're happy."
It looks like someone is trying to get a last-minute invite, doesn't it?
After more details emerged from Trump's interview with Morgan, it's no wonder why he didn't get an invitation to the royal shindig. Donald Trump said he isn't a feminist, and we can all assume Markle isn't happy about that (rightfully so).
In a tweet, Morgan broke the unsettling the news to the public — and sadly, we aren't surprised by his stance. Morgan said Trump told him, "No, I wouldn't say I'm a feminist. I mean, I think that would be, maybe, going too far. I'm for women, I'm for men, I'm for everyone."
I... am at a loss for words. While this doesn't come as a surprise, it's still a huge disappointment that our president feels this way.
Although Markle is yet to comment on Trump's stance, we can assume she isn't pleased. Why? Because Markle has an extensive history of being a feminist, and she started at an extremely young age. When the royal-to-be was just 11 years old, she wrote a letter to Ivory dishwasher soap after noticing a line in the commercial that said, "Women all over America are fighting greasy pots and pans." In her letter, she suggested that "women" should be changed to "people," and the company listened.
Markle didn't only write a letter to Ivory, though. She also wrote a letter to civil rights lawyer Gloria Allred, Nick News anchor Linda Ellerbee, and Hillary Clinton, who was first lady at the time. (I'm really starting to think Hillary should make a surprise appearance at the wedding, don't you?)
So, yes. Markle is a feminist who thinks Donald Trump is a "divisive misogynist," and his invitation to the royal wedding will probably never come.