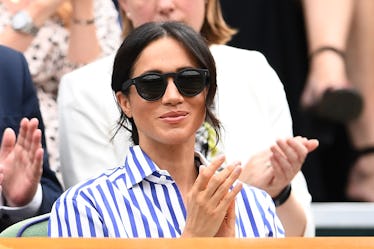 Meghan Markle's Reported Response To Her Dad's Public Drama Is So Heartbreaking
Clive Mason/Getty Images Entertainment/Getty Images
Marrying into any family is difficult, but I can imagine that marrying into the British royal family is an especially challenging thing to get accustomed to. When Meghan Markle married Prince Harry and became the Duchess of Sussex on May 19, she immediately became a part of a centuries-old institution with its own set of rules: a transition that has apparently caused rifts with her own father. Meghan Markle's reported response to her dad's comments about her proves that this Duchess' new royal life might not be as glamorous and perfect as it might seem from the outside.
According to a July 20 report from Us Weekly, Meghan's having an incredibly difficult time dealing with her father Thomas Markle, who has been frequently speaking to the media and the press about his daughter and her marriage. The problem is, she can't speak out or contradict him now that she's a member of the royal family. According to the Us Weekly report, a source tells the magazine that Meghan doesn't have the power to comment on what her father is telling the press. "She doesn't have her own publicist, she can't make any comments on Twitter and she can't reach out to him to tell him to stop speaking to the press. Her father's comments have an effect on everything," the source tells Us Weekly.
Elite Daily reached out to representatives of the royal family for comment about Meghan's reported response to her father's comments, but didn't hear back at the time of publication.
Markle's father has made a habit of expressing his opinions about his daughter and the British royal family to the press, and his remarks haven't painted the duke and duchess' relationship in the most positive light. On July 15, Thomas Markle gave an interview to the popular British gossip magazine The Sun, where he shared that he thinks that Meghan looks "terrified" now that she's officially a member of the royal family. Even more, he also missed her wedding, and reportedly staged photo ops in exchange for financial compensation, which can't be helping things. In addition to him claiming he doesn't feel that the duchess is adjusting to her new life well, he recently told TMZ on June 26 that he's offended that the queen hasn't met him yet.
It's got to be hard for Meghan, who once had her own social media accounts and even her own personal lifestyle blog called The Tig, to keep quiet with all the drama in her family life. But even beyond biting her tongue on family drama, adjusting to these British royal family rules might be frustrating.
Along with getting rid of her social media accounts, the duchess is no longer allowed to take selfies, express any political opinions, go out alone, wear wedges, cross her legs, or begin eating before Queen Elizabeth II does if they are dining together, just to name a few. Some of these rules sound pretty trivial, but the inability to express herself on issues regarding her own family must be especially difficult, if I know anything about families.
Being a British royal may have its perks, but it also definitely has its downfalls. Royal or no, there's never escaping family drama.