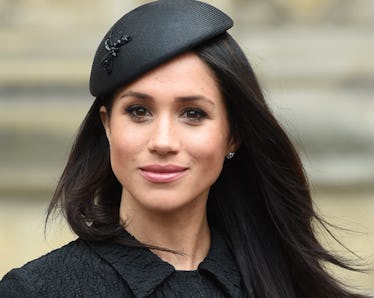 This Is The Workout Meghan Markle Is Doing To Ease Her Pre-Wedding Jitters
WPA Pool/Getty Images Entertainment/Getty Images
With the royal wedding just five days away, I'm over here still salty AF that I still haven't received my invite. What's up with that? Still, though, I've obviously continued to religiously stalk everything Meghan and Harry are doing to prepare for their big day because if I can't actually be there, I might as well live vicariously through their pre-wedding regimen. Meghan Markle's pre wedding workout, in particular, has been super inspiring to follow because it's all about easing her stress and keeping calm amongst the chaos. She's an inspiration to us all, people.
According to Vanity Fair, even with all of the stress and pressure that comes with prepping for a (royal) wedding, Markle has been maintaining her head-clearing workout routine. The princess-to-be has sworn by workouts at Kensington Palace, along with Heartcore Pilates sessions on the reg, to ward off nerves and stay calm amidst all the planning.
"Meghan has been doing regular exercise as a way of beating the stress," a source told Vanity Fair. "She goes jogging around the park most days and starts every morning with some yoga and a meditation."
TBH, I already was in love with Markle, but the fact that she's using yoga and meditation to find her ~zen~, stay mentally stable, and make her wellness a priority during wedding season just makes my not-so-subtle girl crush for her significantly prosper.
Markle has clearly heard of all of the incredible, stress-busting powers of yoga and meditation, and is adamant about making self-care a priority leading up the the big day, which is admirable AF.
And, according to The Sun, Markle also has a few super simple and effective bodyweight moves she relies on to keep her body balanced and strong — and they're actually very doable for as non-royals, as well. According to The Sun, Curtsy lunges are a go-to for Markle, and I honestly think it's solely because of the royal pun, let's be real here, guys.
Markle reportedly also loves the challenge of high-knees, which instantly get your heart pumping and all the feel-good endorphins flowing.
Aside from yoga flows and literal workout moves, though, I think what inspires me the most is that nowhere has Markle made a mention of any restrictive sort of diet leading up to her wedding. She really is an awesome role model for young girls and women everywhere.
In an interview with Harper's Bazaar last year, Markle discussed her love for certain foods, including, "French fries – I could eat French fries all day. And I love pasta. I love carbs – who doesn't love a carbohydrate? The same goes for wine. Of course I'm going to have that glass of wine – it's delicious and I enjoy it," Markle said.
Yas woman. Preach. Along with her vehement support of carbs, VF reports that Markle is all about a glass of red wine in the evenings to help her unwind and contributed to the calm that her grounding yoga and pilates based workout routine brings.
TBH, her pre-wedding regimen sounds like a grounding oasis that I aspire for my every day life to be. "Do the things you enjoy within reason," Markle told Harpers Bazaar. "Know your body and what works for you and you'll be fine." OK, if Markle says it, it must be true. Count me in on this royal regimen.
This laid-back and balanced mindset is surely what's been keeping Markle stress-free during royal wedding prep. Her passion for both the physical and mental aspects of health and wellness is so awesome.
Since my invitation obviously got lost in the mail, can't wait to pull all all-nighter on May 19, so I don't miss a second of the royal wedding. Thank goodness for live-streaming, amirite?