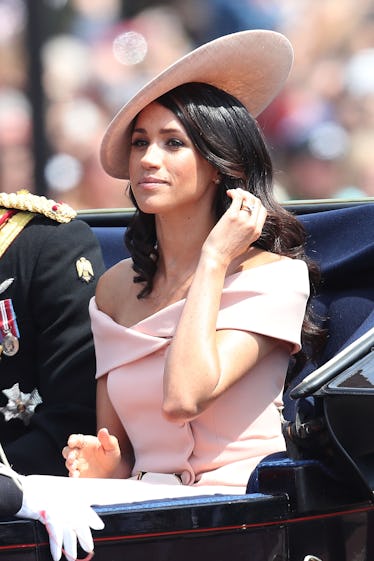 Meghan Markle's Official New Role Alongside Harry, William, & Kate Is Beyond Impressive
Chris Jackson/Getty Images Entertainment/Getty Images
Everyone who has been keeping up with the royal family knows that Meghan Markle will play an integral role as the new Duchess of Sussex. And while the rest of the world was busy swooning over her gorgeous wedding day, Meghan has been hard at work getting ready for a very important job. Meghan Markle's official royal role as the fourth patron of the Royal Foundation. Yep, Meghan is now working for this super respectable organization alongside her hubby, Prince Harry, Duke of Sussex, and Prince William and Kate Middleton, the Duke and Duchess of Cambridge.
According to People magazine, the Duchess of Sussex is "now the fourth patron of the Royal Foundation," which was set up back in September of 2009 for Prince William and Prince Harry to aid in their involvement of charitable deeds. The publication writes,
The organization was originally set up to look after the charitable interests of William, 35, and Harry, 33, and subsequently Princess Kate, 36. Now the group has been renamed The Royal Foundation of the Duke and Duchess of Cambridge and the Duke and Duchess of Sussex. The change was made formal in a listing at Companies House, the official register in the U.K.
Seems pretty official to me!
The publication noted that Markle worked willingly with the Foundation back in February, before her May 19 wedding to Prince Harry. Meghan said that working alongside Prince Harry, Prince William, and Kate was a testament to their camaraderie, and at her first Royal Foundation event on February 28, she shared insight into the foursome's bond, calling it "togetherness at its finest."
At the event, Meghan also explained that she wanted to "hit the ground running" after her nuptials to work with the Royal Foundation to help support women's rights. She said,
I hear a lot of people speaking about girls' empowerment and women's' empowerment you will hear people saying they are helping women find their voices. I fundamentally disagree with that because women don't need to find their voices, they need to be empowered to use it and people need to be urged to listen ... Right now with so many campaigns like MeToo and Time's Up there's no better time to continue to shine a light on women feeling empowered and people supporting them.
Yassss, queen! Or should I say Duchess? Whatever, you get what I mean.
And if you needed a reason to love Meghan even more, People noted that she may have a role within the foundation's ongoing mental health initiative, as she has been "visiting various people in the local community and charity sectors as she prepares for her new work."
I just think it's a great time to point out that, one month after my wedding, this was me:
I was literally sitting on a couch still decompressing from the whirlwind day that was held a few weeks ago. And here Meghan is, basically changing the world almost immediately after one of the most high-profile weddings of all time. So, you know, two types of people in this world.
Clearly, Meghan is being treated like family already, which is actually really lovely to see. Included in that mix is Queen Elizabeth, or, as Meghan probably calls her, "granny." On June 14, Meghan will accompany the Queen to Chesire to officially open Chester's Storyhouse Theatre and the Mersey Gateway Bridge. This will be Meghan's first public appearance without husband Prince Harry by her side, but if there's anything we've learned about her, it's that she is one independent lady and doesn't need to rely on someone in this kind of situation.
According to Chester's Storyhouse Theater's official website, the facility is beyond grateful to have the pair of royals visit their community:
This amazing visit has been made possible by the tremendous support we have in Chester and in the region, and is testament to the degree to which our community has taken us to their hearts and for that we are immensely grateful and proud.
Let's be honest: Who wouldn't be excited to have the Queen and the Duchess of Sussex pop over in their neighborhood?
I don't know about you, but I look forward to seeing what's next on Meghan's agenda. World peace? Single-handedly saving the environment? A cure for all illnesses? This girl is doing big things, you guys, and I'll be cheering her on no matter what.