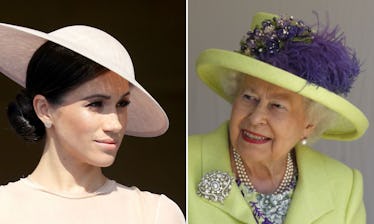 Meghan Markle's First Royal Engagement With The Queen Is Scheduled & It Sounds So Lovely
Chris Jackson/Getty Images; Alastair Grant - WPA Pool/Getty Images
It's only been a few weeks since the royal wedding, but Meghan Markle, Duchess of Sussex, is already set to make her first official appearance alongside the Queen. Meghan, who married Prince Harry, Duke of Sussex, on May 19, will be accompanying Her Majesty to Cheshire later in June for some very special activities. So, what'll happen during Meghan Markle's first royal engagement with the Queen? The royal pair is reportedly set to officially open Chester's Storyhouse Theatre and the Mersey Gateway Bridge.
Meghan's first royal engagement with her royal granny-in-law will take place on June 14. As part of her itinerary for that day, she'll be heading to Chester's Storyhouse Theatre, which serves as a library, theater, and cinema. So, basically, it's THE go-to place for entertainment. And the Queen herself will be there to open the theater with her.
The event will be Meghan's very first public appearance without her husband, Prince Harry, which may sound intimidating, but something tells me Meghan's going to breeze through the engagement like she's been slaying every other royal engagement so far!
According to Chester's Storyhouse Theater's official website, the facility is excited to welcome the royals into their community:
This amazing visit has been made possible by the tremendous support we have in Chester and in the region, and is testament to the degree to which our community has taken us to their hearts and for that we are immensely grateful and proud.
Chester's Storyhouse Theatre is very well-known for its theater company, which has garnered widespread acclaim for its diverse productions.
The royals will actually be ushering in a new era for the theater as its brand new library will be available to the public after June 14:
The pioneering new library within Storyhouse, where members of the community work alongside city librarians, boasts the longest opening hours of any UK public library and is open every day until 11pm.
In addition to running a theater company, Chester's Storyhouse Theatre also offers a slew of activities for marginalized groups. Here's what they say about their offerings on their website:
We offer over 2,000 activities each year for local marginalised groups, including autism friendly colouring sessions, sewing groups for refugees and regular classes for isolated and older communities.
Honestly, this sounds like it's right up Meghan's alley. She's historically been really committed to helping marginalized groups. Plus, she and Prince Harry asked that charitable donations be made to several organizations in lieu of wedding gifts. So, it's not surprising that an event supporting an organization like Chester's Storyhouse Theatre would be Meghan's first royal engagement with the Queen.
In addition to opening the theater, Meghan and the Queen will also be opening the Mersey Gateway Bridge in Cheshire, England, which sits approximately 160 miles north of London. While the bridge opened back in October 2017, the Queen and Meghan will be opening it "officially." Guess that means the Queen will be giving her royal blessing, which is pretty cool. During the event, a plaque will reportedly be unveiled.
According to BBC, Meghan and the Queen will also attend a luncheon at Chester Town Hall. Construction on the gothic-style building was complete way back in 1869 and it's listed on the National Heritage List for England, which records buildings, monuments, parks, and battlefields considered worthy of preservation. So, Meghan and the Queen will be getting a heavy dose of heritage during an already eventful day.
All in all, Meghan's first royal engagement with the Queen sounds like it's going to be just lovely. What a wonderful way for Meghan to lend her name and her face to a handful of important events. Plus, she gets to spend a whole day of quality time with the Queen! Who wouldn't want to be a part of that?