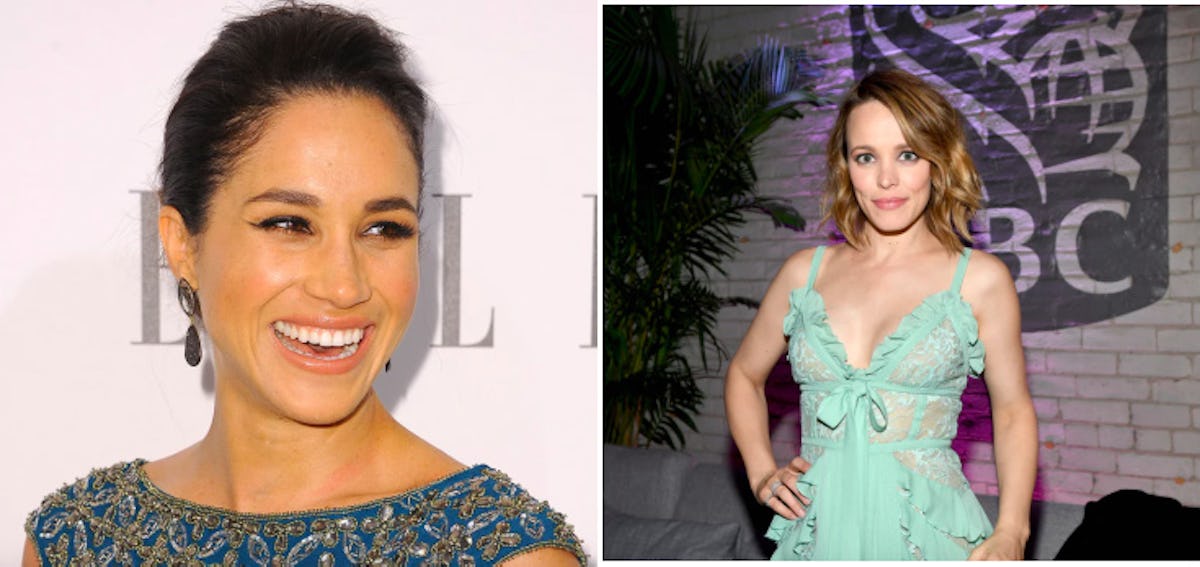 Meghan Markle Is Connected To Your Fav Actress Of All Time In The Coolest Way
Getty/Frazier Harrison
Ever since her engagement to Prince Harry, fans have been clamoring for any intel on Meghan Markle. You might have heard that she favors Canadian designers and facial massages, but you probably glossed over an important detail involving Meghan Markle's makeup artist. In an interview with Allure, Markle indirectly and unintentionally reveals that one of her go-to makeup artists is related to our favorite actress, the one and only Ms. Rachel McAdams.
That's right, McAdams aka Allie aka Regina George is the sister of Kayleen McAdams, one of Markle's fave makeup artists. How is it fair for one family contain that much talent, you might ask? Here's the answer: It isn't.
In the interview, Meghan Markle discussed her go-to beauty products for everyday wear. She included the YSL Touche Éclat Radiance Perfecting Pen ($42; sephora.com), mascara, Chapstick ($3; target.com), and a little bit of blush on her list of daily must-haves. When it comes to nighttime makeup, Markle likes to amp it up with a smokey brown liner. "I use M.A.C. Teddy eyeliner ($18; maccosmetics.com)," Markle told the beauty site. "A makeup artist I work with often, Kayleen McAdams, turned me on to it."
Hold the phone: Kayleen McAdams. When I first read the article myself, I glossed over this little detail. Do you know how many women with the last name McAdams exist in this world? However, Kayleen is not just any McAdams. She really is related to one of the most iconic actresses of our time: Rachel McAdams.
Kayleen McAdams had always loved makeup from a young age (as many of us do), but only started to think of it as a serious career after visiting her sister on the set of The Notebook. Kayleen would hang out in the makeup trailer and watch the artists at work. Up until then, she hadn't even realized she could choose makeup artistry as a career path.
It was actually Rachel that first encouraged Kayleen to turn her passion into a career path, and thank goodness she did. Not only did Kayleen find something she loved to do, she also happened to have an immense talent for it. The McAdams family gene pool is X-Men-level strong. How can two sisters be so gorgeous and so stupidly talented at the thing they're most passionate about? Can I myself go back in time and be born a McAdams instead? I guess I'll just have to cross my fingers till the invention of time travel.
After Kayleen had her life-changing, self-awakening experience on the set of The Notebook, she went back to Toronto to attend makeup school where she studied fashion, photography, theater, prosthetics and film. When she finished school, she moved to Los Angeles (as many makeup artists-in-training do), and entered the industry.
With a lot of talent and a little ingenuity, Kaylee was able to cultivate a long list of celebrity clientele. Since she began her cosmetic career, Kayleen has done makeup for Rachel McAdams (of course), Jessica Biel, Gal Gadot, Lily Alderidge, Sofia Vergara, Leighton Meester, Meghan Markle, and so many more.
She recently made up the stunning Camila Mendes, aka Veronica Lodge on Riverdale, for the American Music Awards. Just look at that supple skin and subdued flush. Kayleen really nailed the look with this one.
She also kept Sadie Sink's look subtle and totally age-appropriate for the premiere of Stranger Things season 2. Once again, her complexion is glowing for the gawds.
Kayleen prides herself on makeup that allows the client to look and feel like themselves, so it's no surprise that Meghan Markle was a loyal fan during her acting days on Suits. Kayleen McAdam's makeup looks are truly royal.