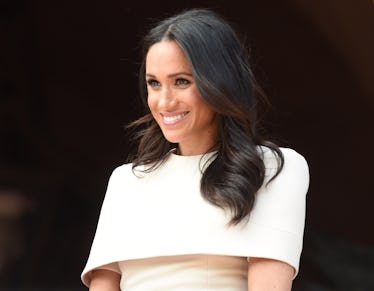 Meghan Markle Opened Up About Marriage & Called Prince Harry "The Best Husband"
Do you ever just, like, sit around and wonder what it's really like to be married to Prince Harry? Or is that just me? Meghan, Duchess of Sussex, briefly opened up for the first time about her new life as a royal wife during a day of events alongside her new grandmother-in-law, Queen Elizabeth II, in the northwest city of Chester. Meghan Markle's first quote about marriage to Prince Harry since their wedding is incredibly sweet.
The Daily Mail reports that Jo Richards, a local fan of the royal family who lives in Chester, gave Meghan a book of sketches that her friend had made to depict local landmarks and had a short conversation with her. (Side note: I am jealous.)
"Meghan looked simply perfect, she is actually jaw-droppingly gorgeous," Richards said. "I thanked her for coming to Chester and she sweetly said, 'You're welcome, I'm very happy to be here.' Then I asked her was she enjoying married life and she said, 'Harry is the best husband ever.' She was so sweet."
Daily Mail reporter Rebecca English actually caught Meghan's full quote, and it's even cuter. She reportedly called married life "wonderful" and added, "I'm really enjoying it."
While that might be a small snippet of conversation, it's actually the first time the general public has heard Meghan's thoughts on her relationship with Harry since their wedding took place on May 19. Since then, she has been attending royal events alongside her new husband — but she hasn't opened up at all about her marriage.
Today was Meghan's first day of royal engagements without her husband. The Duchess and the Queen opened the new Mersey Gateway Bridge in Widnes and visited The Storyhouse and Town Hall in Chester. And judging by the photos, these two are already thick as thieves. You can't fake smiles like these!
Oh, not convinced?
Need more photographic evidence?
Behold.
My heart is bursting, you guys. They are perfect together.
Of course, like anyone who marries into a new family, Meghan is still learning the ropes — except in this case, there are a lot of ropes. At one point in the day, Meghan appeared the tiniest bit flustered, but she handled the situation like a true queen (or, shall I say, duchess).
While leaving Runcorn Railway Station to travel to the Mersey Gateway Bridge by car, Meghan and the Queen approached the car door at the same time. Unsure whether it's royal protocol to enter the car first or let the Queen lead the way, Meghan turned to an aide for help at the exact moment the aide walked away. She asked the Queen, "What's your preference?"
"You go first," the Queen offered.
"Oh, OK," Meghan said, sliding into the car.
It was polite of Meghan to ask, but it turns out she couldn't have broken royal protocol either way. There is no protocol about entering a car with the Queen. However, Elizabeth happens to prefer sitting behind the driver, which explains why she suggested Meghan enter the car first.
Judging by Meghan's heartwarming comments about Harry, massive smiles while sitting alongside Elizabeth, and deference to potential royal protocol, it seems like her day of royal engagements was a success. Harry might be "the best husband" — but she certainly can hold her own without him every once in awhile.
Check out the entire Gen Why series and other videos on Facebook and the Bustle app across Apple TV, Roku, and Amazon Fire TV.
Check out the "Best of Elite Daily" stream in the Bustle App for more stories just like this!