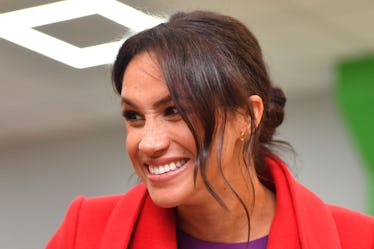 Meghan Markle Is All About These 5 Cooking Essentials, So Take Notes, People
Anthony Devlin/Getty Images Entertainment/Getty Images
Meghan Markle is one of those women who seems like she can really do it all. Not only is she literally royalty, but she also keeps to a steady workout routine, loves her pasta, and is an amazing actor as well. Plus, at least in my opinion, the pregnancy glow is real, because she's been looking so happy lately. So when I heard about Meghan Markle's cooking essentials, I decided that I needed to take a shopping trip as soon as possible to stock up on the foods she swears by.
Per Express, in his book on Markle, called Meghan: A Hollywood Princess, royal biographer Andrew Morton described how the Duchess of Sussex's love for food has even influenced what Prince Harry keeps in the fridge. "Meghan never leaves home unless she has hummus, carrots, green juice, almonds and chia seed pudding in the fridge," wrote Morton, according to Express.
One of the ways Markle reportedly influenced her now-husband was to help him really focus on his health by swapping alcohol for mineral water, for example. "All she did was show him there's another way to live and he's become a huge fan," an anonymous source told Express. "He eats well, doesn't poison his body, exercises, does a bit of yoga and is a lot happier." Getting healthy together is ultimate #CoupleGoals in my opinion, so Markle's choice to share her love for food with her loved one is super sweet.
Nutritionally speaking, Markle is really onto something with the foods she "never leaves home" without, because each one really packs a major punch for your overall health. But true to her belief in balance and her love for treats like banana bread, these five fridge essentials are also delicious, so get ready to experiment.