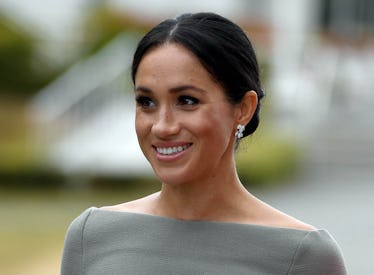 Meghan Markle May Have Broken Royal Protocol By Discussing Abortion & I'm Worried
Pool/Getty Images Entertainment/Getty Images
Since marrying Prince Harry in a lavish ceremony back in May, Meghan Markle has been rewriting the royal handbook a day at a time, whether it's her wearing off-shoulder dresses, packing on the PDA with her partner or opting to wear pantyhose in public. But she might've just breached one of the most serious rules out there. Apparently, Meghan Markle's chat about Ireland's abortion referedum, which was shared on social media by an Irish politician, might be a violation of royal protocol, and people are seriously concerned.
When it comes to politics, royals are typically forbidden from making political statements. But unfortunately for the Duchess of Sussex, on July 10, she got pulled into a discussion around Ireland's recent referendum to repeal the country's ban on abortion on May 25. Senator Catherine Noone opened up about the alleged conversation she had with Markle in Dublin — where the royal couple is on their first foreign tour since they tied the knot — saying Markle was "pleased" with the result of the referendum to end the ban on abortion.
"The Duchess and I had a chat about the recent referendum result — she watched with interest and was pleased to see the result," Noone wrote.
But Noone quickly realized her mistake and attempted to clarify her comments, saying, per Jezebel, "I should say she seemed pleased — she was interested and very measured, not political at all." She also added, "I clarified - it was a very benign chat, she expressed no political opinion. She was interested and charming." Ultimately, Noone deleted her tweets, telling an inquiring Twitter user she wiped them because they were "unintentionally misleading." Elite Daily reached out to Kensington Palace for comment on the incident, but did not immediately hear back.
However, writer Una Mullally had also tweeted about a similar discussion she allegedly had with Markle about the vote, and has yet to remove it from her feed. Her particular tweet read:
Great to chat with Meghan Markle, Duchess Of Sussex, about Repeal and the importance of her feminist activism. So important to have people in her position championing women's rights. Total sounder!
Needless to say, some onlookers were concerned about the consequences of Markle's alleged opinion, if any.
One user pointed out to Mullally that Markle isn't allowed to talk politics.
Despite the concerns, though, Markle had previously touted her commitment to feminism and women's issues. In fact, her profile on the royal's family website highlights her campaigns against sexism and girls' lack of access to education in developing countries — which signal that she doesn't intend on staying mute about issues that are important to her, even if she is a royal.
Also, as The Daily Mail notes, Markle's alleged opinion is actually a popular viewpoint. On Friday, May 25 the majority of Irish citizens voted to legalize abortion by a margin of 68 to 32.
Additionally — although it's reportedly one of the most serious violations — this is far from the first time Markle has shied away from royal protocol. Back in June, she opted to wear a pale pink, off-the-shoulder dress to her very first Trooping the Colour, which many people quickly criticized due to the fact that royal women traditionally don't wear off-the-shoulder dresses.
Markle had also chose to serve lemon elderflower cake to celebrate her and Harry's wedding on May 19, which "[incorporated] the bright flavors of spring," and was covered with buttercream and decorated with fresh flowers, according to the baker, Claire Ptak. Although it might sound like the perfect cake for their spring wedding, the confection was a break from the tradition of having fruit cakes at royal wedding ceremonies.
So I know there's the phrase "all rules are meant to be broken," but I'd think that would even have its limits. Markle is absolutely entitled to her own opinions, but for the sake of tradition, maybe it'd be best to run in the opposite direction whenever these kinds of sticky situations present themselves. Just a thought.